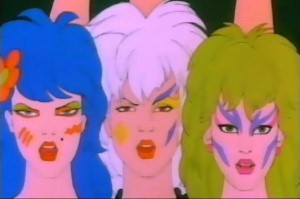 CAST
THE MISFITS

Spoken Voice: Patricia Alice Albrecht (Also Anne, probably also Dierdra and the jewel thief in Culture Clash, as well as having parts in Remington Steele, The Snorks and other interesting shows hehe) Sadly I've not been able to track down the Remington Steele episode with Patricia in yet - still working on that ;)
Singing Voice: Ellen Bernfeld (Since Jem, Ellen has produced "Songs for Cats" and "Songs for Dogs" with Anne Bryant - as well as other songs. Visit www.gloryvision.com for more information and stuff on what she and Anne Bryant have been up to since Jem aired, including song downloads "Dear Al" and "Istanbul" sung by Ellen herself!)

---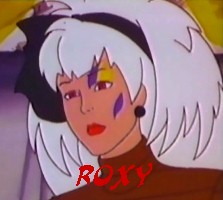 Spoken Voice: Bobbie Block (Also known under the name Samantha Paris. Probably also the voice of BaNee.) This is cute, by the way, but apparently Bobbie also voiced "Baby Bear" in Shrek :) I've listened to the baby bear, and I can't hear it myself, but I have to believe the cast list ;)
Apart from this, she did various cast voices on " Where on Earth is Carmen San Diego?" (I did watch this as a kid, but sorry, I don't remember well enough to know who...)

Singing Voice: Oddly, Ellen Bernfeld again :) Ellen is well proven as being able to manipulate her voice when she sings (See Songs for Cats/Songs for Dogs) and if you listen, Roxy does sing different from Pizzazz. Well, she does to me!)



---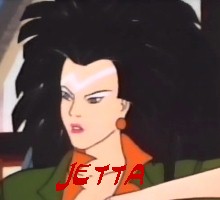 Spoken Voice: Louise Dorsey. The daughter of Engelbert Humperdinck (I can finally confirm this link thanks to Christy

Marx, the chief writer and character creator of the Jem series through the TOJ list) and also had a role playing DeDe in an episode of Murder She Wrote - see capture, right, or click the episode name to see a brief clip of her in action (zip wmv file, 768kbs).
You know the funniest thing? Louise Dorsey actually *resembles* Jetta more than a little! Finally, the only other source I have found is that she played some kind of H.O.T.B.O.D.S role in a TV film "The Ratings Game: The Mogul" (Thanks Nick for your help finding this info!). From what I've gathered online, she is heavily involved in the online (and perhaos offline) promotion of her father's career and fansite. Louise is also credited as a co-writer on songs "Blame It On The Night" and "How Slow We Go" from her father's 2002 record release, "I Want To Wake Up With You." Busy girl, our 'Jetta'! :)
Interesting to note at this juncture that Louise Dorsey does not have the pronounced London accent Jetta is known for in regular speech. I'm not entirely surprised by this - it always sounded a little like she had adopted it for the show anyhow. However her voice is clearly recognisable as Jetta even without the distinctive accent. If you listen to one of Jetta's lines in "Trick or Techrat" when she says "E's jolly well been the invisible man, 'asn't 'e?" Despite the vocab, that is far more the "real" Louise Dorsey than some of the other things she says.

Singing Voice: Jetta doesn't sing - sadly. Louise Dorsey has a fine singing voice :) Louise recorded a single "Dreaming Together" (clip only) which was released in Europe in 1995 (Yes, I have a copy - the picture on the front looks like the same girl as "DeDe" only somewhat older), and appeared on stage with her father.) A most un-Jetta like song, mind you, in every respect ;) She also appears as a backing vocalist on Humperdinck's most recent CD "Definition of Love", which she also helped to produce.


---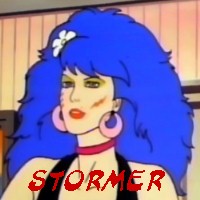 Spoken Voice: Susan Blu. One of the best known voice actresses in the cartoon business, Sue Blu has worked on a ton of stuff - too numerous to list here! As well as Stormer, she also voices LinZ Pearce . Aside from this she voiced one of the street urchins from Treasure Hunt...Ellen?
She was also Lofty in the MLP movie (not to mention a grundle and a bushwoolie, and I'm sure she sings as a grundle, too!) I'm convinced she was also Paradise in the series- Paradise sounds like a mellowed out Stormer, both speaking and singing.... She was also Voice Director for the Teenage Mutant Ninja Turtles series among SEVERAL other credits (And interestingly still is voice director for the new series of TMNT). They are far far too many to name here, but I know that she wrote a book about voice artistry and, like Kath Soucie, among others, has a list longer than my arm of things she has voiced and done.

Singing Voice: I was told it was Diva Grey...but I'm not certain about this. Either way, Stormer's singing voice is the girl who sings the main vocal for I'm Okay. (If you want clarification of this, just listen to the end of This is Farewell, when Stormer sings her line. Same voice. Besides, this has been confirmed by the songwriters as Stormer's singing artist.