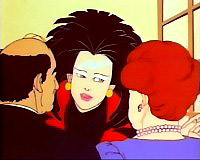 England's Rose

PART ONE: SHEILA
Chapter One: Life in London
Chapter Two: The Saxophone
Chapter Three: A Friend In Need
Chapter Four: Never Again...

PART TWO: A DESIGNING WOMAN
Chapter Five: Sheila's Decision
Chapter Six: A Band In Crisis
Chapter Seven: First Night
Chapter Eight: Making It Happen

PART THREE: BACK IN THE CITY
Chapter Nine: The Misfits In London
Chapter Ten: On Every Screen...
Chapter Eleven: A Musical Reunion
Chapter Twelve: Jealousy
Chapter Thirteen: An Old Acquaintance
Chapter Fourteen: Doing London
Chapter Fifteen: Sabotage!
Chapter Sixteen: The Final Straw
Chapter Seventeen: Opening Night
Chapter Eighteen: Jetta

DISCLAIMER
(The Misfits and Holograms and other animated Jem characters are copyrighted to Hasbro Inc. All characters who do not appear in Jem episodes are my own creation. This story is copyrighted to E.A Woolley (2001) Background image was drawn and edited by me and is not to be reproduced without prior permission. Other image taken from Jetta's own box and is copyright Hasbro Inc 1987. Jetta is copyrighted to Hasbro Inc.)
One tiny paragraph of dialogue in chapter six is borrowed directly from the Jem episode Talent Search part One and a section of chapter seven is based loosely around a scene in the same episode. These belong in copyright ENTIRELY to Hasbro, Sunbow and Christy Marx. their inclusion is for the sake of continuity only and is not meant to cause any offence or violate anything, so I hope noone will mind me using them!!!