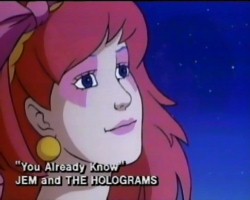 Synopsis:
Jem is nominated for an Academy Award because of her role in their movie, Starbright (hm..no comment) and when she appears on a talk show with the other nominees she inspires dislike from one of her main competitors because she is not a classically trained actress. When the star of a movie produced by Howard Sands walks out, Jem takes over the role and it transpires her costar is Kimber's old favourite Shawn Harrison (though no Pizzazz to compete with this time!). He and she renew their acqaintance with enthusiasm. Meanwhile Jeff Wright, another of Kimber's old flames is doing stunts on the film and Kimber finds herself torn between two beaus (lucky girl).
This is the first time you see Shawn without the uneasy memory of his past with Pizzazz...and he's a nicer character for it. Before this episode he came across to me as something of a jerk in his behaviour to both Pizzazz *and* Kimber (he's falsely flattering and smarmy where Kimber is concerned - blatantly patronising her and insulting her intelligence, and both unfairly dismissive and physically confrontational with Pizzazz)...but this is a different side to him and you cant help rooting for him.
Songs:
Hollywood Jem (Jem and the Holograms), Too Close (Jem and the Holograms), You Already Know (Jem and the Holograms)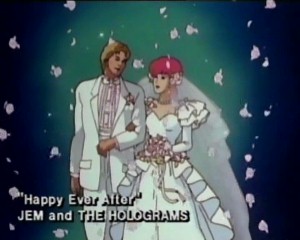 Part Two: And The Winner Is...
Synopsis:
After being disappointed by Shawn's intentions towards their future, Kimber accepts Jeff's proposal of marriage, little knowing that Shawn too wants to propose. Shawn decides to prove himself to Kimber by taking over Jeff's stunt in the car but winds up getting hurt. Meanwhile preparations for the wedding begin in earnest.
However, at the altar Rio brings a proposal of marriage to Kimber from the hospitalised Shawn, and she realises that she's not ready for marriage. She soon discovers Jeff too has cold feet, and they part on remarkably good terms. Kimber goes (in her wedding dress!) to visit Shawn but tells him she isn't ready to marry yet...that's a move for them to take in the future for the right reasons <aww, she's growing up...>. She also lands Jerrica in it by saying carelessly 'you're holding up my sister's movie career!' but Shawn is evidently still concussed since he doesn't seem to notice...
The award ceremony comes, and...<drumroll> JEM DOESN'T WIN! I like that bit best of all - finally some reality sets in! She does however get a 'star'...
I have to admit that for once Rio doesn't irritate me - he plays a good big brother role to Kimber throughout this and it's kinda sweet.

Songs:
Hollywood Jem (Jem and the Holograms), Tomorrow is my Wedding Day (Jem and the Holograms), Happy Ever After (Jem and the Holograms).
ADDITIONAL CAPTURES

Jem and Raya at a showbiz party
(Part One)


Kimber tries on her wedding dress with the help of the rest
(Part Two)


Kimber laughs as Shawn is hit by the tide
(Part One)


Kimber's bridesmaids
(Part Two)