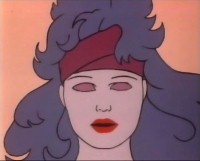 Synergy
Character Analysis
You might think it strange for me to choose to do an analysis for a computer, and perhaps you'd be right. But Synergy is far more than simply a machine that projects Jem's hologram. It is very easy to believe at certain points that Synergy is at least part human herself, her moods and emotions mirror those of her companions and she is always on hand with advice and encouragement.
In order to fulfil the requirements for being categorised simply as a machine, Synergy would have to omit any kind of independant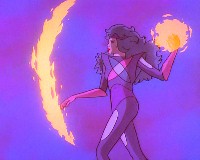 thought from her behaviour. However, this is not the case. In Midsummer Night's Madness, she takes it upon herself to invent a new identity for herself in order to make Jerrica listen to her advice about Rio. In Music Awards, when Jerrica asks Synergy for some brand new effects, Synergy's tone is less than enthusiastic (I still maintain that the dangerous laser show that follows is less to do with Techrat's jammer and more to do with Synergy's own mischievous streak). She also takes over the light show and announces the Holograms off her own bat in The World Hunger Shindig. And when you watch the "She's Got The Power" video from the extended Truly Outrageous episode, Synergy gives so much attitude and personality during the animation there that you can easily believe she is capable of independant thought!
In Out of the Past, however, the true motivation behind Synergy's motherly behaviour is revealed, when the girls find out that Emmet programmed her with parts of Jacqui Benton's personality. Despite the fact Emmet created her partly to help him get over his grief at losing his wife, Synergy, by his own admission, became far more than that, and entirely deserves to be referred to as 'She' rather than 'it' by her charges.
Friendships/Roles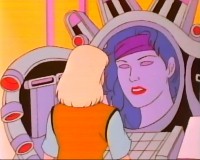 Synergy takes her job as the mother figure for Jerrica and especially Kimber very seriously indeed. She is very conscious of her own safety, but her extreme loyalty to the task Emmet set her inspires her to try and produce a hologram even when the FBI are pulling her apart in Presidential Dilemma. Equally, when Jerrica loses the earrings in China, the Holograms seem just as lost without Synergy's guidance as they do without the Jem hologram, resorting to stealing earrings from a museum in their desperation. It is hard also to believe that Synergy did not play a huge role in the creation of Jem herself.
In out of the past, Synergy is eager to dissasociate herself from being the incarnation of Jacqui, as much to tell the girls she is an individual as anything. However, she is not always appreciated by the Holograms. Already mentioned is the incident in Midsummer Night's Madness, but there are others. Shana doubts her abilities (and is quickly disproven) in Search For The Stolen Album, and Kimber doesn't invite Synergy to her wedding, despite all the valuable advice the computer provides in Scandal. Also, Synergy's opinion is not sought at the end of Out of the Past, when Aja hunts through her memory banks - a risky procedure which could have cost the computer her life.
Synergy's bond with the Holograms is absolute, but, since no other character of import knows of her existance, it's impossible to say she has any real relationship with the rest of the cast :)