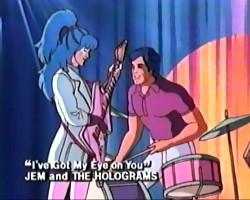 Name: The Talent Search (Part 1)
Synopsis: This is perhaps one of my very favourite episodes (parts 1 and 2, of course) because this is where Hasbro/Sunbow introduced the STAR new character of year 2's series....JETTA!!!!! (All hail the British Misfit!!) Oh yeah, and Raya first appears in this one too :-p
When Shana gets a chance at an incredible designing job, it means a difficult choice - fashion or the Holograms? Knowing what a great chance this is for her, the other Holograms trick Shana into leaving the group, but it means they are one member short, so they launch a talent search to find a new drummer. Incensed by all the publicity, the Misfits allow Eric to convince them they need a new member of their own, so they tour round clubs listening to bands. About to give up, Stormer is attracted to one club by the sound of a saxophone playing and after an impromptu Misfit performance Jetta is inducted into the group. Though their new member does not generate the hoped publicity, Eric decides to get at Jem through the two finalists, Raya Alonso and Craig Phillips, the latter of which being Stormer's elder brother.
Meanwhile, just after her audition Raya discovers Jem's secret identity. When Eric takes her out to lunch he tries to bribe her to tell him Jem's real name...
Songs: I Like Your Style (The Misfits), Believe In Yourself (Jem and the Holograms) I Got My Eye On You (Jem and the Holograms - repeated song)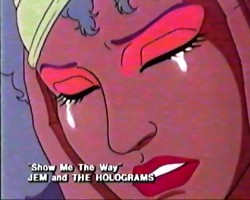 Name: The Talent Search (Part Two)
Synopsis: Finding that Raya is too honest to bribe, Eric and the other Misfits discover that Stormer and Craig are brother and sister, and Pizzazz pressurises Stormer to get Craig to help out. Craig, who is developing a relationship with Aja, tries for his sister's sake to discover Jem's name, but to no avail. Stormer admits to him that she is afraid to be kicked out of the band.
Having failed with Craig, Eric returns his attention to Raya, and Jetta takes the initiative to organise the ransacking of the Alonso Nursery, to force Raya to come to Eric for money. The plan works - up to a point - for Raya discovers who was behind it and tells Eric that she would never betray Jem. Craig settles up his own scores with the Misfits, but decides to drop out of the competition. However, when the ballots are counted it transpires that Raya has the most votes. Meanwhile, Shana has quit her design job but is unsure that she can go back to the Holograms.
When they take Raya to Starlight Mansion to meet Synergy, they find Anthony's car waiting for them, and Shana is reunited with the band. Thinking they no longer need her, Raya slips away, only to have the band come to her to play.
Songs: Beat This (Jem and the Holograms), Show Me The Way (Jem and the Holograms - repeated song) All's Right With The World (Jem and the Holograms).