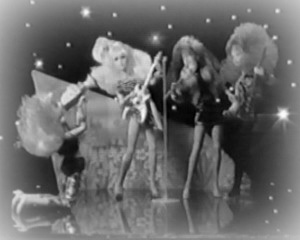 Britrock Updates
2014
23.03.14
Full scale revamp of Britrock began today. Activated and added Misfit blog.

30.03.14
Added Jem collection to the website, hyperlinking images and text.
24.04.14
Revamp of Britrock complete. All relevant old elements of the site have now been shifted to the new format. Doll images at the sides of pages are from my collection, but some of these will be changing in the not too distant future since right now there isn't enough Roxy and Pizzazz representation on these side-banners. Britrock currently has a "Stormer" theme in terms of its colour scheme. (Maybe a "Makin' Mischief theme?) This is a first - it's always been black up till now :) so I hope people like it!
27.04.14
Added first new In Depth analysis to the site since the site revamp - Danse Time. This can be found from the Series In Depth section, under Season 2. Also added one from Season 1, in theme with the Integrity release: In Stitches.
30.04.14
Added In Depth review for Middle of Nowhere.
Updated Integrity Jem collection page

09.05.14
Added a new page of Misfits' Music: See how versatile the Misfits can be!