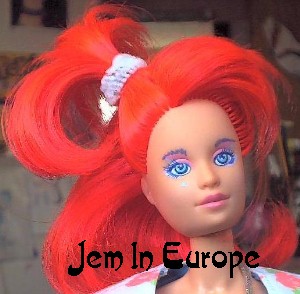 France, Belgium and the Netherlands

Well, being as I'm not from any of the above countries, and I don't speak Flemish/Dutch, I'm working on the various assumptions I've picked up from native sellers, collectors and of course, my own purchases.
The first thing is that these days there seem to be an awful lot of boxed dolls around with French/Dutch writing. In fact, my sister's Raya's box actually says on it that it is distributed by Hasbro in Belgium. However, I bought the doll, along with my similarly labelled MIB Clash, from FRANCE. So there we have our first bit of cross border information :)
It's not uncommon, it seems, for dolls to skip borders in Continental Europe. My own MIP collection consists of three Dutch boxed Misfits (Stormer, Roxy, Pizzazz), and a Belgian boxed Clash, among others.

Interesting to note is that the three Misfits all have balled wrists :)


And there they are. Stormer has very curly hair, and a somewhat dreamier expression than the others. I've been told by a Dutch collector that when removed from box, Roxy and Stormer often have each other's shoes - Roxy having pink and Stormer neon yellow, to match their guitars. Makes a weird kind of sense :) Stormer's skirt is made of the thicker material also found on dolls in the UK. All tapes are in English, however.
I bought all three of these from Holland :) And they have none of them ever been out of box.

---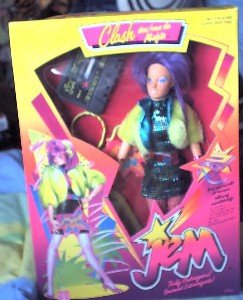 This is Clash. Contrary to the above very DUTCH dolls, her box is BELGIAN. She has two languages for everything, French and Flemish (Belgian form of Dutch). Beneath the logo it says Truly Outrageous and Vraiment Extravagante - same meaning :) Her accessories are the same as a regular boxed Clash doll.

---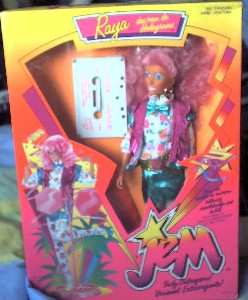 My sister's Raya. As with Clash, her box is bilingual in the exact same way. However Raya is kinda different from other Raya dolls I've seen on account of her HUGELY curly mop of hair.

---
As for dolls sold on the continent, there seems no evidence whatsoever to support the idea that Synergy and the Starlights were omitted. France certainly had Starlight Girls because I've seen them on ebay with Galeries LaFayette price stamps (For anyone who doesn't know, Galeries LaFayette is a very chic French department store - I went there when we were in Paris on the hunt for My Little Pony ;)) I've also seen sellers with Synergy, and have bought a French lot once before with Synergy's outfit in it.
It's interesting to note that in continental Europe Glitter and Gold Jem and Rio became Rock and Gold Jem and Rio :)

Jetta is another question. I'm yet to come across any conclusive proof that Jetta was sold on the continent.