Fushigi Yuugi: Music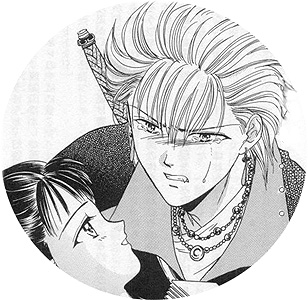 Music
I have no intention of adding full mp3s of Yuugi tracks to this site for the simple reason that they are, for the most part, really easy to still buy. The collection of all the series songs is still in production and easily available from sites like CDJapan, Yes-Asia and Amazon.jp.
This section of the site is intended only as a general guide to what songs are in the series, which characters they belong to, and where possible, who sings them.
There are some brief clips as samples, but none very long. Please, support Yuugi by buying the soundtrack CDs!
Miaka (Araki Kae - Anime)
Promise Love
Still
Inori You Ni Aishite'ru

Miaka (Hidaka Noriko - Drama CD)
Fushigi No Tobira
Nanadori No Uta
Itsuka Aeru Kara
Eien No Ai Ni Wa

Tamahome (Midorikawa Hikaru - Anime)
Ai To Iu Na No Tatakai Ni
Soshite, Yami no Saki Ni
Voice

Tamahome (Seki Toshihiko - Drama CD)
Kimi o Mamoritai
Eien no Hikari
Kimi no Tadoru Michi
Hotohori (Koyasu Takehito - Anime)
Dengon
Boku No Uchuu ni Kimi ga Iru
Sadame no Hoshi
Hotohori (Matsumoto Yasunori - Drama CD)
Lovin' You

Nuriko (Sakamoto Chika - Anime)
Kaze no Uta
Otome Ranman
Perfect World

Nuriko (Takayama Minami - Drama CD)
Renren Bojou

Chichiri (Seki Tomokazu- Anime)
Ochanoko Saisai Hengen Jizai
Kachoufuugetsu
Mizu-Kagami

Chichiri (Yamaguchi Kappei - Drama CD)
Joujou Kibun Kouyou
Tasuki (Kanna Nobutoshi - Anime)
Heart Ni KIRAboshi Sakashitare!
Do=Be's Ga Yatte-kuru
Setsunakutemo...Zutto

Tasuki (Yao Kazuki - Drama CD)
Ooinaru Kaze No You Ni
Mitsukake (Ishii Kouji - Anime)
Hidarite no Kioku
Sora Ga Mieru

Chiriko (Kawakami Tomoko - Anime)
Akai Iitsutae
P.S. Ai'tte Eien Desu Ka?

Chiriko (Orikasa Ai - Drama CDs)
Ito Chiisaki Negai
Yui (Touma Yumi - Anime)
I Wish
Best Friend
Aoi Arashi

Nakago (Furusawa Touru - Anime)
Blue Eyes...Blue
Houkou

Nakago (Okiayu Ryoutarou - Drama CDs)
Kami yo Rekishi Kaete Kure
Amiboshi (Ueda Yuuji - Anime)
Nocturne
Suboshi (Ueda Yuuji - Anime)
Never Get Away

Soi (Tanaka Atsuko - Anime)
Furuete Kudasai
Koori-tachi no PURAIDO

Tatara (Anime)
Seed

Tamahome and Miaka (Seki Toshihiko & Hidaka Noriko, Drama CDs)
Subete Ni Wo Ai Ni
Futari Dake
Hoshi No Neiro
Chiisa Na Tegami

Miaka and Yui (Drama CDs)
Ai O Shinjite

Tamahome and Tasuki (Seki Toshihiko & Yao Kazuki, Drama CDs)
Ashiato ni Hiraku Hana 

Amiboshi & Suboshi (Iwanaga Tetsuya - Drama CDs)
Futatsu no Kodou
THTC =Chichiri & Tasuki= (Seki Tomokazu & Kanna Nobutoshi, Anime)
Aoi Jiyuu, Shiroi Nozomi

THTC=Tamahome, Hotohori, Chichiri & Tasuki=(Midorikawa Hikaru, Koyasu Takehito, Seki Tomokazu, Kanna Nobutoshi- Anime)
Meccha Hajikete GATTSU Tobashite

Hikitsu & Tomite (Hiyama Noboyuki & Iwanaga Tetsuya - Anime)
Kimi ga Hohoemu Nara


Original TV Series
Opening Theme: Itooshi Hito No Tame Ni
Closing Theme: Tokimeki No Doukasen
OVA 1
Opening Theme: Yo Ga Akeru Mae Ni
Closing Theme: Ashita No Watashi O Shinjitai
OVA 2
Opening Theme: Star
Closing Theme: Yume Kamo Shirenai
Eikouden
Opening Theme: Chijou No Seiza
Closing Theme: Yes - Koko Ni Eien Ga Aru (Performed by Koyasu Takehito)

Kiseki no Reizoku
Wakatte Ita Hazu
Everything For You
Destiny
Eyes
Winner
Ashita Wa Ii Hi Ni Naru
Dash
Girl! Girl! Girl!
Heiki Da Yo
Only Tonight
Doumeinna HANE Mitsuketa
Arigatou Ga Fukaku Naru
Kuroi Tsuki
Tsuki no Nai Yoru
Shiawase Ni Narou Ne
Te No Hira No Naka Ga Kagayaki