Arc One: Just A Dream


JEWEL!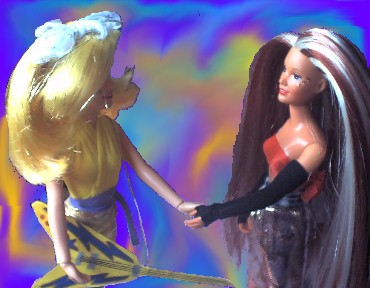 PART THREE: CONFLICT
Jewel are off on their first big tour, to Canada and the Northern States, and for Sylva, Copper and Nancy it's a big adventure waiting to happen. But when Sirena and her newest partner in crime Blade tag along for the ride, things soon become chaotic. Blade convinces Nancy that she is in love with him, and despite the best efforts of her bandmates will not leave him alone. After a big row threatens the band's future, the hunt is on for a new Jewel...
Prologue: The Reason For It
Chapter One: Jewel On Tour
Chapter Two: Trapped in Toronto
Chapter Three: Nancy...and Blade
Chapter Four: The Singer
Chapter Five: Rows
Chapter Six: Defection
Chapter Seven: Topaz
Chapter Eight: Sirena Reveals
Chapter Nine: Confrontations
Chapter Ten: A Broken Heart
Chapter Eleven: Jewel Forever



DISCLAIMER: PLEASE NOTE
Copper, Nancy, Sylva, Anna, Blade, Raesha, Sirena, Topaz, Aaron, Sophie, Justin, Elliot, Rosita, Luis and any other characters in this fiction which do not appear in the animated Jem series are copyrighted to me (E.A Woolley) as of January 2002 <unless otherwise specified> and are not to be reproduced without permission ANYWHERE. Jetta, Pizzazz, Stormer, Roxy, Raya and all other original Jem characters are the copyright of Hasbro Inc, Sunbow, Christy Marx and the other writers of the Jem series. The future world of Pizzazz, Raya, Jetta, Roxy, Stormer, Clash, Synergy, the fate of Jem and her memorial are all copyrighted to me. The future world of Kimber and Shana is copyrighted jointly to myself and Gemma Dawn.
The concept of 'Jewel' is entirely my own, and any apparent link with any fictional or actual person or persons of this name is entirely coincidental. Equally the characters in this fiction are not based on any real life individual.
The concept behind the future world of Danse, Aja and Craig, the idea behind Jerrica's futureworld and the split of the Holograms is copyrighted to Gemma Dawn, whose Teenangel Outsiders fiction is directly twinned with Just a Dream. The character Sammi and any of the other Teenangel Outsider characters mentioned in this fiction are entirely copyright to Gemma Dawn and appear here only with her permission.
Pay her page a visit!
The concept of RayzaBlade is copyrighted to my sister Elena...^_^ (Yeah, blame her!)