Arc Four: Into The Spotlight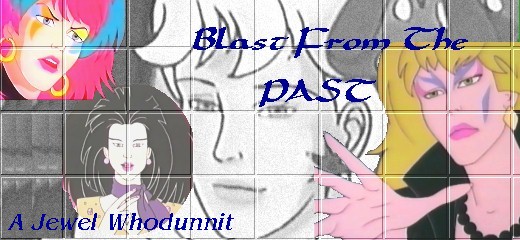 PART ONE: CURTAIN DOWN
It's a busy time for Jewel in Los Angeles. Not only have they recently welcomed back their wayward singer, Topaz, but they are hard at work on a new single, and in the heat of the California summer, nothing could seem to be smoother. It appears that finally, everything is right in Jewel's World again.
But then things begin to go wrong. First Jewel's studio is trashed by Stefana and her new accomplice, and Connie Montgomery is startled and upset by a shadow from her past, sending her daughter Zoe into a panic about what it all means.
Into the middle of all of this chaos, Phyllis Gabor knows something is going down at her music company, but even she can't predict what's going to happen next...
An event which might just change Misfit Music - and Jewel - forever.

Prologue: 1989
Chapter One: The "Anniversary"
Chapter Two: Jewel's Sound
Chapter Three: At Sirena's Place
Chapter Four: Jewel's Video
Chapter Five: Fanmail
Chapter Six: A Stranger
Chapter Seven: Stefana's Date
Chapter Eight: The Results
Chapter Nine: A Moment's Weakness
Chapter Ten: A Shock For Zoe
Chapter Eleven: A Surprise For Jetta
Chapter Twelve: Fire!


DISCLAIMER: PLEASE NOTE
Copper, Nancy, Sylva, Anna, Blade, Raesha, Sirena, Topaz, Aaron, Sophie, Justin, Elliot, Rosita, Luis and any other characters in this fiction which do not appear in the animated Jem series are copyrighted to me (E.A Woolley) as of January 2002 <unless otherwise specified> and are not to be reproduced without permission ANYWHERE. Jetta, Pizzazz, Stormer, Roxy, Raya and all other original Jem characters are the copyright of Hasbro Inc, Sunbow, Christy Marx and the other writers of the Jem series. The future world of Pizzazz, Raya, Jetta, Roxy, Stormer, Clash, Synergy, the fate of Jem and her memorial are all copyrighted to me. The future world of Kimber and Shana is copyrighted jointly to myself and Gemma Dawn.
The concept of 'Jewel' is entirely my own, and any apparent link with any fictional or actual person or persons of this name is entirely coincidental. Equally the characters in this fiction are not based on any real life individual.
The concept behind the future world of Danse, Aja and Craig, the idea behind Jerrica's futureworld and the split of the Holograms is copyrighted to Gemma Dawn, whose Teenangel Outsiders fiction is directly twinned with Just a Dream. The character Sammi and any of the other Teenangel Outsider characters mentioned in this fiction are entirely copyright to Gemma Dawn and appear here only with her permission.
Pay her page a visit!