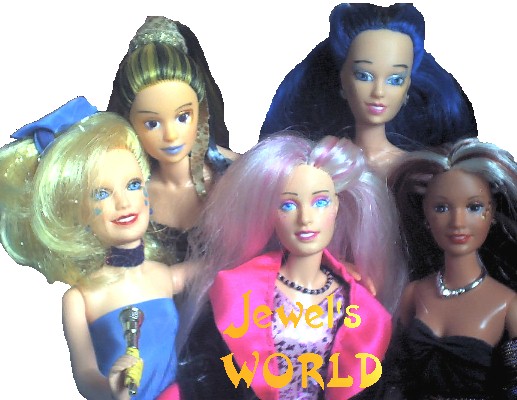 So who exactly are Jewel, anyway?
If you're a fan of Jem, then you'll already know who the Misfits and the Holograms are. Jewel's world is simply a follow-on from the eighties world of the cartoon - the next generation of young rock stars. Jewel are Elizabeth Santiago (Copper), Aurora Stapleton (Topaz), Nancy Pelligrini (Goldie) and Sylvina Martescu (Sylva), and the fanfiction on this site follows them through the trials and tribulations of the music business in 21st century Los Angeles.
So how is Jewelfic relevant to the original series, then?
Simple. It's probably safe to say that Jewelfictions are simply tales from the Misfits' future.
Set the scene. It's twenty odd years after the separation of the Misfits. Pizzazz and Jetta now co-run Misfit Music. Stormer, married with twin girls, lives in Washington DC with her husband, and Roxy is based out in Philadelphia, though she takes active interest in Stormer's family's problems.
And there are plenty of those.
Stormer's daughter Sylvina is impetuous and out of control, and it's Roxy's idea to send her to Los Angeles to find out what the her dream career in the music business is all about. There she is teamed up with Jetta's daughter Nancy, who resents the association from the off.
Raya is no longer in music, for after the suicide of rock diva Jem and the subsequent unrest in the Hologram camp, she dabbles in acting, and launches a successful career with the help of her film director husband, Esteban. Her daughter, Elizabeth, is spotted by a talent scout, and soon the idea of Jewel is formed.
But things do not go smoothly. Pizzazz's estranged daughter Emily is on the scene, wanting to cause as much trouble for her mother's company as she can, and in the midst of the melee is the future of the Starlight Foundation, Starlight Music itself, and one rather senile computer...
So are all the stories just about Jewel?
No. There is a big variety. Though the stories are set in the future and Jewel are the stars, there are other important characters too, all of whom can be met on the character biography pages. Some stories tie in closely to the characters of the past, others focus more on the lives and fortunes of the Jewelfic girls and the people around them. You can pick and choose what you want to read, though the stories follow on for the most part in sequence.
Jewelfic is also twinned closely with Gemma Dawn's Teenangel Outsider fiction, and you might see one or two of her characters making cameo appearances in my stories - likewise mine might appear in hers. To save you confusion as to who created who, I have made character biographies on my page solely for those characters I created. Gemma's characters have biographies on the Teenangel Outsider website.

Welcome to Jewel's World.
WHICH JEWEL CHARACTER ARE YOU MOST LIKE? TAKE THE QUIZ AND FIND OUT!!
DISCLAIMER
Copper, Nancy, Sylva, Topaz, Anna, Blade, Sirena, Aaron, Cameron, Taylor, Gaynor, Sadie, Cynthia, Alan, Stefana, Luca, Maddie, Marissa, Clay, Sophie, Justin, Zoe, Elliot, Rosita, Luis and any other characters in this fiction which do not appear in the animated Jem series are copyrighted to me (E.A Woolley) as of January 2002 <unless otherwise specified> and are not to be reproduced without permission ANYWHERE. Sammi, Rose and any of the other Teenangel Outsiders characters are copyrighted to Gemma Dawn and appear here only with her permission. Jetta, Pizzazz, Stormer, Roxy, Raya and all other original Jem characters are the copyright of Hasbro Inc, Sunbow, Christy Marx and the other writers of the Jem series. This site is merely a fansite and is in NO WAY affiliated with Hasbro.
The names of the bands, the characters and the concepts in the stories are entirely fictional and any similarity to any genuine musical act, situation, person or concept is entirely coincidental. Jewel, Diablo, Sirena and the other characters are NOT based on real individuals, either in the press or in everyday life.
The future world of Jetta, Raya, Stormer, Pizzazz, Roxy, Riot, Minx, Synergy, Eric, Clash and Jem are concepts which are entirely my own. The future world of Aja, Jerrica, and Danse are concepts belonging to Gemma Dawn and the future world of Kimber, Rapture and Shana are concepts which belong to us both jointly, since they were discussed in some detail!