MARISSA YOUNG
(Picture courtesy of Olga)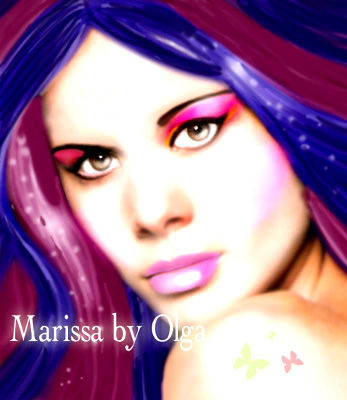 Name: Marissa Young
Date Of Birth: August 28th, 1992
Starsign: Virgo

Marissa is the baby of Diablo - the youngest member of the group but also arguably the most gifted, for it is Marissa, along with Clay who produces all of the group's music. Marissa is sweet-natured, gentle and unassuming, and her close friendship with Stefana is a friendship of opposites. Marissa is loyal and considers the friendship mutually beneficial - it was Stefana who taught Marissa to have confidence in herself and her music, whilst Marissa does her best to keep Stefana on the straight and narrow. It is true to say that Marissa worries far more about Stefana and her actions than Stefana does herself, and it often causes her more than one sleepless night.

Marissa is the only person to know about Stefana's drug addiction and out of misguided loyalty swore to keep it a secret - a promise she regrets but does not consider breaking, for loyalty is important to her. However, she hates tension and fighting often gets to her - particularly when she and Stefana fight. She has no desire to paint Jewel as evil rivals in the same way as Stefana does - in fact, she is eager to befriend them wherever possible, and accords them and their musical prowess the greatest respect.

Marissa is an insulin diabetic, who has fought to be accepted by everyone and who manages her condition with barely a hiccup. She is devoted to her music and Diablo is very important to her - in terms of personnel as much as in terms of the songs they produce. Marissa considers Luca something of a big brother figure and has a secret crush on drummer Clay, though she is too shy to voice it

Marissa's mother is Suzanne Leroux - once Suzanne Mayor, aka Chimera, Pizzazz's half-sister and once the video artist for the Misfits. Marissa does not know till fairly late on that Pizzazz is her aunt and Sirena therefore her cousin, though it comes out when Marissa and Luca attempt to warn Sirena about her father's true intentions. Marissa's mother has been married twice and she has two siblings - a twin sister Farah who works in Japan with a friend of her mother's, and a half brother named Patrick who she is also very close to. Though her parents are split up, Marissa has a good relationship with her father and with her stepfather, and has a stable family background back in Connecticut.