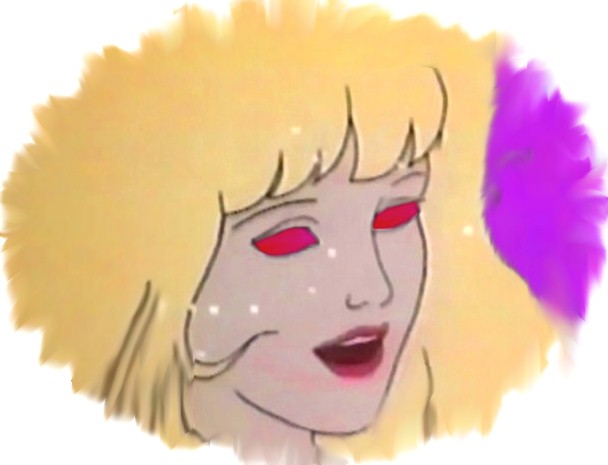 Part One:

Cynthia's secret is safe.
Hidden deep in the bowels of Starlight Mansion, Synergy's mainframe is no longer the object of press scrutiny, and life has begun to return to normal. And yet, as she goes about her every day responsibilities, Cynthia knows that something is not right. For the first time since Techrat's virus, she is experiencing memory blackouts and having trouble with her projections. Trying valiantly to keep her degrading physical condition from her friends, Cynthia finds herself haunted by pictures and images that seem to make no sense. After encountering a holographic simulation of the late Jacqui Benton at Misfits Music, Cynthia decides someone else's technology must be involved, and that the vendetta against the Misfits is still very much on. After an encounter with a mysterious blond in a nightclub, Jewel agree that something odd is going on, and the hunt begins for the saboteur.
Meantime, the fur is flying at Rebel Records. Put out by Rory Llewelyn's increasing egoism, Ingrid Krueger is determined to put her colleague firmly back in his place. Enlisting the help of the duplitious Sophie Devereux and the shadowy Techrat, she sets in motion the footings of a scheme to bring down Riot's regime once and for all.
But Techrat's ambitions are far greater - to build his own version of Synergy...
Readers Please Note:
The prologue to Jacqui's Legacy includes two quotes from Emmet Benton's diary which are taken from the Jem episode "Out of the Past". These, therefore, are copyrighted to Hasbro and Sunbow and the original writer and not to Jewel's World or myself.
Prologue: Emmet's Task
Chapter One: Discontent
Chapter Two: Jewel In Session
Chapter Three: Mirage
Chapter Four: The Contact
Chapter Five: Le Klub Kool
Chapter Six: Sullivan
Chapter Seven: Cracks
Chapter Eight: Illusion
Chapter Nine: Jacqui
Chapter Ten: Marissa Demands
Chapter Eleven: Stefana's Warning
DISCLAIMER: PLEASE NOTE
The copyright for the original Jem characters featured in this and other stories by me belongs entirely to Hasbro and their interpretations to Christy Marx and the other writers of the Sunbow Jem series. Their future selves are based on concepts that are entirely my own and are not to be repeated elsewhere without due permission.
All other characters, including their likenesses, are copyrighted to myself as webmistress of Jewel's World from 2001 to the present day and are not to be reproduced elsewhere without permission.
The Teenangel Outsiders, Jesta, Flame, Ryan Montgomery and the future interpretations of Aja, Danse and certain of the other original characters are all or in part the concept of Gemma Dawn whose teenangel outsider fiction world is twinned with Jewel's World. You can visit her site at www.teenangeloutsiders.com!
All events in the stories on this site are based on original ideas and are not rooted in any existing Jem fiction nor in any real life event or person.