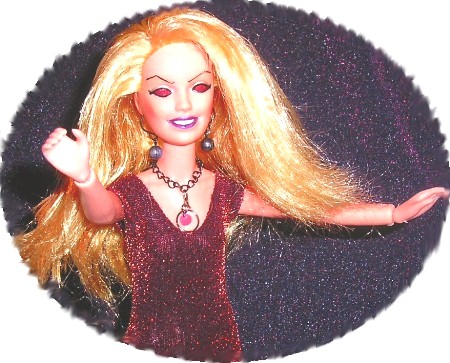 Part Two:



Things are hotting up.
After the covert theft of Synergy's parts from the Federal Laboratory, Stefana finds herself once more under the intense scrutiny of curious tabloid journalist Darren McMillan, who greatly suspects she had something to do with the heist. However, Stefana soon realises that what is going on around her has a far more sinister edge - someone is impersonating not only the long dead Jacqui Benton, but musicians working in Los Angeles. When Stefana herself becomes the latest victim of the 'double', she does some digging of her own, and stumbles wholesale into Minx's scheming. Torn between her hatred of Rory Llewelyn, and her reticence over Synergy's secret, she has to decide once and for all whose side she's really on.
Meanwhile, Cynthia's behaviour is becoming ever more erratic, and Jewel are starting to realise that the clues all lead to one place - the basement at Starlight Mansion. But is someone else controlling Synergy?
And Techrat's machine is finished - but has he built more than he bargained for in Athena?

Readers Please Note:
The prologue to Jacqui's Legacy includes two quotes from Emmet Benton's diary which are taken from the Jem episode "Out of the Past". These, therefore, are copyrighted to Hasbro and Sunbow and the original writer and not to Jewel's World or myself.
Chapter One: Sadie Investigates
Chapter Two: Too Close
Chapter Three: Alex...and Synergy
Chapter Four: Conspiracies
Chapter Five: Split
Chapter Six: Searching for Jacqui
Chapter Seven: Stefana Demands
Chapter Eight: Playing With Fire
Chapter Nine:Athena
DISCLAIMER: PLEASE NOTE
The copyright for the original Jem characters featured in this and other stories by me belongs entirely to Hasbro and their interpretations to Christy Marx and the other writers of the Sunbow Jem series. Their future selves are based on concepts that are entirely my own and are not to be repeated elsewhere without due permission.
All other characters, including their likenesses, are copyrighted to myself as webmistress of Jewel's World from 2001 to the present day and are not to be reproduced elsewhere without permission.
The Teenangel Outsiders, Jesta, Flame, Ryan Montgomery and the future interpretations of Aja, Danse and certain of the other original characters are all or in part the concept of Gemma Dawn whose teenangel outsider fiction world is twinned with Jewel's World. You can visit her site at www.teenangeloutsiders.com!
All events in the stories on this site are based on original ideas and are not rooted in any existing Jem fiction nor in any real life event or person.