"The goal is control of your soul!"
I should have expected it really, when I made the impulse decision to buy my first Stinger doll.
I never have been a fan of the Stingers – a sort of underground resentment of these blond bombshells that edged my Misfit girls out of the central villain role in the cartoon series. If I had to pick one of the three to say I had a fondness for, it would be Minx…so I suppose it's a bit surprising to me, let alone to everyone else that my first Stinger doll ended up being Phoebe Ashe.
So the adventure of Rapture is a bit of a funny story. I've been complaining to people about UK post for a while, but this really takes the biscuit in my opinion.Last night, I checked the tracking number on Rapture's parcel, and according to USPS, it said she had entered the UK, awaiting delivery to destination. After this, I checked both Royal Mail and Parcelforce sites. Both of which said…and I quote…"your parcel has been received and is being prepared to be dispatched overseas".
…She just came from there.
No, Rapture. You're not going on tour to the continent just yet.
So this morning I phoned the postal peeps to find out what was going on. Unfortunately the parcelforce people had absolutely no idea what was happening, since as far as they were concerned the tracking number didn't exist. They were very helpful, though, and sent me to Royal Mail, who informed me that they also couldn't track down the information for this parcel.So I went back to USPS, who kindly told me that the parcel had been delivered, yesterday, at 6.19am. This may seem an obvious statement, but I think I would have noticed. Not least because some postman banging on my door at 6.19am would be noticed down the whole street. We also don't get post deliveries before eight…we don't get them AT eight…actually we're lucky if we get them before lunch. So something about that didn't ring right.
I phoned back RoyalMail. Very helpful lady now informs me that no, the parcel hasn;t been delivered (again, I had noticed this…) but that it was waiting at my local depot for me to collect it….Which is hard for me to do when the website is telling me it's going back overseas.
…So I went to the depot and trotted out the whole story to them. They know me there, fortunately, and so I paid my custom fee (honestly, for once I didn't even care that there was one) and, finally, took my doll home.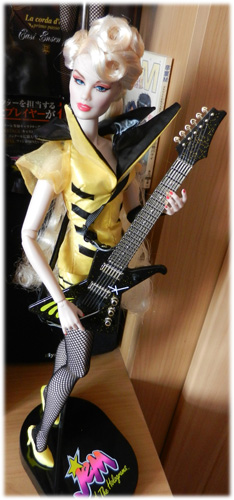 I still have no idea why it said it was delivered at 6.19am yesterday, or why they wanted to ship it overseas. But since the package was Rapture, I assume it was one of her mind games.Rapture is now enjoying the hospitality of my desk, where Stormer is giving her the wary eye now instead of me.
She's also not wearing her bracelets.After the Stormer hand trauma, I don't think Rapture's hands are coming off.
Knowing my luck, and the track record with this doll so far…they'll go missing in transit.