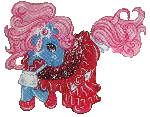 This section of the site is the fun bit :) On this part of the Scrapbook you can find song files and sound clips...some from the UK, some from the European continent, some from elsewhere. This section is under a lot of construction, but eventually it will also be home to pony comic and fact file information, as these are a vital part of My Little Pony's UK history. The above header image comes from a story called the Magic Ribbon, taken from one of the pony comics itself.
There will also be free screen captures for you to use. All I ask with these is that you cast a link back to this site if you choose to use them.
One of the reasons for this section of my website is the My Little Pony songtape, which Hasbro released during the 1980s via mail order. This tape is so infamous in the UK that even at the pony meet I went to last summer there was a quick chorus of Applejack's song from a few of the attendees (who shall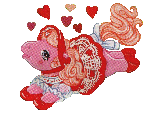 currently remain nameless, hehehe!!) But most people think I'm insane when I try and explain it, so the best way for me to get around that was simply to add a section to the site about it.
Additionally to this is the French pony page, which is devoted to some cute (and occasionally bizarre) pony songs I have come across. This includes songs from the original series dubbed into French - where possible I have tried to give the lyrics also:)
The My Little Pony factfile is one of those other UK mail order items that seems to be sought after by anyone who doesn't have it, and guarded jealously by anyone who does - yet all the time I get asked "what exactly IS it?" I hope that, with this webpage I will answer that question! Be aware that, despite numerous enquiries, the entirety of the fact file will NOT ever be available on my site to download. It's far too big, and that rather defeats the object!
Any song files on this site appear as zips and are for evaluation purposes only. They are not to be redistributed and certainly not used for profit. This site is merely a fansite -My Little Pony is copyright of
Hasbro INC
and I am in no way affiliated with Hasbro. If I hear that the resources on this site are being abused, then the songs will go. Simple as that.
Any questions, please EMAIL ME!!
And, with all of that said, on with the show!!