Glitter 'n' Gold Fashions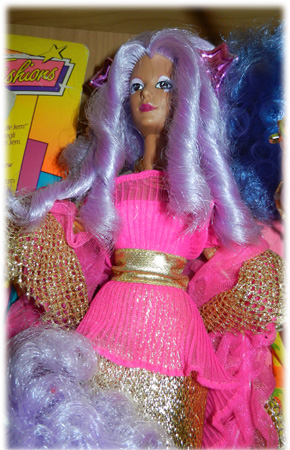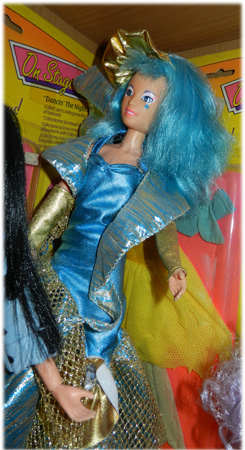 This is probably the set of fashions to which I made the most sweeping cut when I downsized my collection. It's a funny line, really, the Glitter & Gold fashions, comprised of three very classy outfits, and three that makes me wonder what the designers were really thinking about. Especially, Purple Haze. Never really understood why Jem would be able to go out on the street wearing nothing but a fur coat, gloves and shoes. Surely at least Synergy could project something more comprehensive than that?
Anyhow, to cut a long story short, I decided that the important fashions for me to keep were Gold Rush, Moroccan Magic and Fire & Ice. In the case of Moroccan Magic, I only have it loose - but the other two I have mint in package. Normally my pattern has been to sell an item loose if I have it MIB, unless it is a special outfit - because of display space among other things. However, this is one of those rare exceptions.
To the left is Shana, wearing Gold Rush. This Shana was my first Shana doll; she is still my favourite Shana doll.
When I first got her, she was in really bad shape. She was dirty, devoid of any accessories, and her hair was a birdsnest of tangled purpleness, most of which had lost its original curl. Despite that, she was the prettiest Shana doll I 's ever seen. It so happens that she's a Second Edition Shana - and probably that's part of the reason I have a bias towards Second Shana in the first place.
Shana's original curls were long gone, and so I decided that instead of trying to replicate her original style, I would put it into ringlets instead. The curls you see in the photo were first put into her hair in 2001, and they have stayed perfectly ever since. I didn't even boil perm her - for some reason, it just stayed. She went through various fashions, and for a while I considered getting her accessories and displaying her as Second Shana. Then I put her in Gold Rush, and I realised, this was her fashion and she needed to wear it. She's been Gold Rush Shana ever since. The hair clips obviously don't belong to the fashion, but they suit it anyway. I think you can agree that she's made a complete transformation from sorry Ebay reject to stunning catwalk queen.
In terms of Moroccan Magic, this Aja is one of my display dolls. Her hair was crimpy when I got her, and it seemed to suit the fashion. What I like about Aja as a doll is that she has so many subtle expressions depending onthe batch or the hair or the makeup. This one seemed like a Moroccan Magic Aja. To me they're the nicest fashions in the set, and so they deserve displaying.
My MIB Fire and Ice and Gold Rush live with the Music Is Magic fashions, so are not pictured on this page.