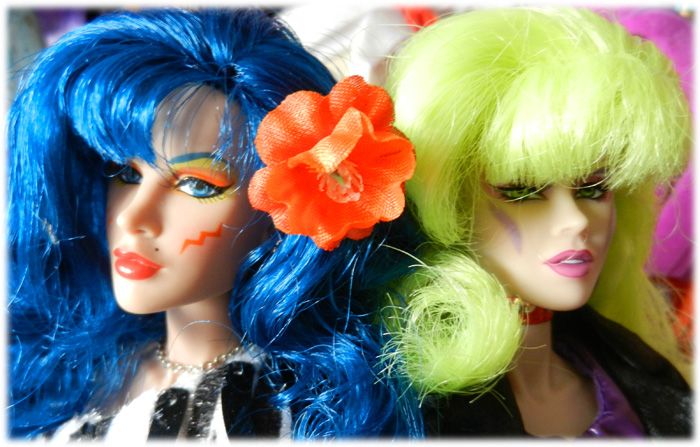 Integrity Dolls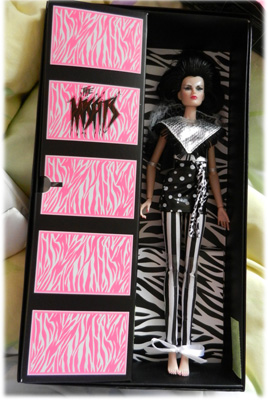 I was late to the IT scene, and this was largely because of a bunch of factors. I was studying, then looking for a job. I'm still saving for a PhD, and IT simply hadn't made the characters that appealed to me at that point in time. Then, of course, Jetta was released, and all changed. I admit I have got more into these than I expected when I preordered my Jetta doll, but I do still have rules because as pretty as they are, I can't justify the outlay on all of them (even if I wanted). It's a saving grace to me that Jem is the most expensive doll still, and there's absolutely zero interest for me in getting Jem. The Misfit dolls tend to come up at cheaper prices, otherwise I would never have gone out to try and obtain them. I am a Misfit fan to the core, but I see IT in a way as completing the gaps left by the original series. For that reason, I'm only interested in dolls that Hasbro never made in the 1980s, (not including versions of Jem which I'm not bothered about). For that reason, I've managed to keep my IT list down. The only doll I have still in her original box is Jetta, albeit I bought a cheap loose one to play with (I haven't grown up yet, I'm afraid).
I've also been stupidly lucky, especially with Astral who has become quite hard to find and expensive online now. I got mine loose for a snip of her current market price, and she is missing her hat, but considering, I don't mind. It's the only way I was going to get her, so I did. Likewise, I got Rapture at a cheaper price because she was missing her guitar cable - but that's not a huge issue for me in display terms either. With the Misfits, Stormer aside, I've never cared for their original outfits, so until In Stitches Pizzazz came out, I wasn't really that fussed about her or Roxy. In a sense, since Pizzazz's outfit is new, it counts as something Hasbro didn't release ;) And my Roxy has absolutely nothing of her own, unless you count the stand xD.
So I guess this is the hotch-potch, bits and pieces "Misfit" IT doll collection. But that seems appropriate. So without further ado...allow me to present my small collection of IT dolls.
For some of my idiot adventures in unboxing the Stingers and putting on Stormer's jewellery, please see the blog ;)
---
:Misfits:

STORMER
My first IT doll came to me loose with only her stand, guitar, jewellery and hands, and I had to scrabble around for the other bits. Fortunately Stormer accessories were all over ebay that week, and so I got her outfit for less than $5. The keytar came courtesy of an old Jem friend I hadn't spoken to in years, who had some Misfit Essentials he wanted to sell ;) Stormer is consequently very happy as I have a general hate at her guitar...


JETTA
(LOOSE)
This is the only IT doll of which I have two, and that was because I couldn't take the other one out of the box, but couldn't not have a loose version of my pet sax player. She's wearing an outfit custom made for her by Ethera Peril on Etsy and is based on one from the show. Sax and shoes are her own.

PIZZAZZ (IN STITCHES)

I bought Pizzazz loose and complete with all her accessories - but separate from Jem and Jem's accessories. For some reason she's less in demand. I cannot imagine why. It's true that IS Jem is probably the prettiest Jem so far, but even so - this outfit always did look better in black ;)


ROXY (CUSTOM FASHION)

So I don't like Roxy's original outfit. So I prevaricated for ages about getting Roxy, even though she was so pretty as a doll. Then the solution presented itself. I believe this fashion was made by EtheraPeril from Etsy. Her guitar is from the Misfit Essentials and it fits the ensemble great :) To me she's "Let The Music Play Roxy" now.

:Stingers: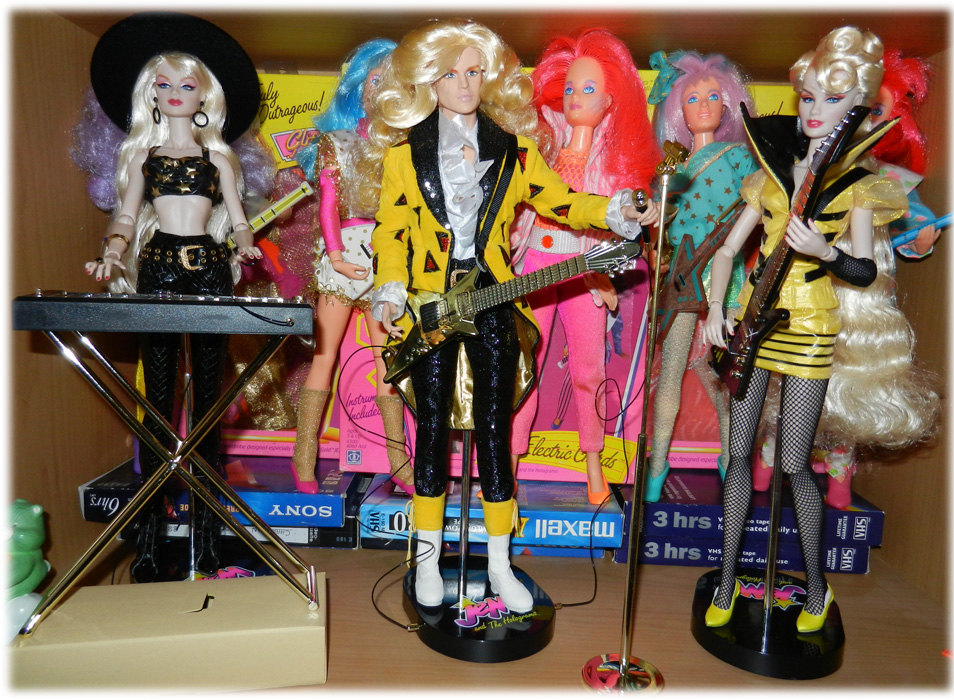 As a Misfit fan it pains me to admit it, but I really, really like these dolls and the intricacy of the detail. I think part of it is because they were never sold before as dolls, and for IT to have gone to so much trouble to render their outfits and everything so perfectly is just staggering. I even like Riot, which is amazing since he's both a blond doll and a jerk in the cartoon. I would have loved it if they had made Minx with her star-skirt and white top outfit, but otherwise, no complaints. I do love her hat xD. Minx's hatpins are also great for ear piercing ;) Rapture isn't wearing her earrings or bracelets yet, as I was too scared to mess with either, but I may put her earrings in now I have Minx's pins to help ;)
:Miscel: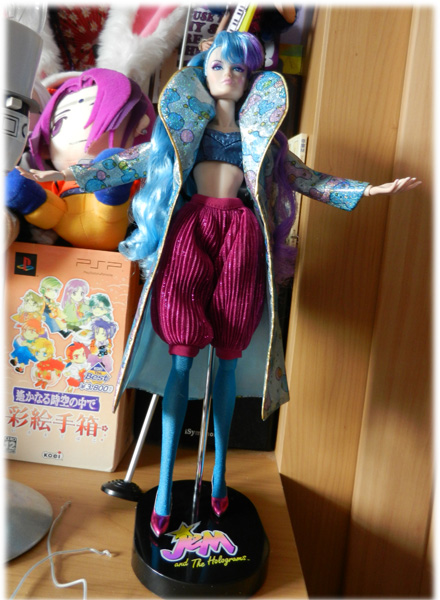 ASTRAL

I am still pretty surprised and happy that I managed to lay hands on this girl for such a reasonable price. I have seen her price on ebay skyrocketing lately, and I am just relieved not to have to compete. I don't think the hat is really any loss. She has really pretty hair, and it's a shame if you can't show it off ;)