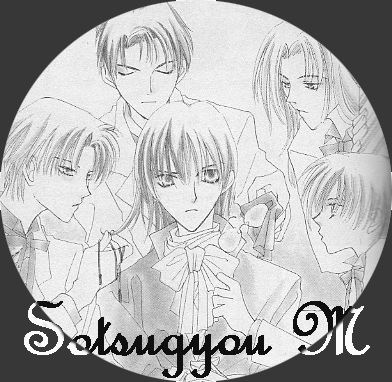 ---~^~---
In 1995, five popular Japanese seiyuu got together into a group and released a music single under the name "E.M.U". Printed on the cover of this mini-disc release were the pictures of five characters who would go on to become well known in Japan as the boys of "M". Five years later, when the unit E.M.U separated, the project had spawned not only individual music releases but also manga, drama CDs, an OVA, novels and other paraphernalia relating to the character series "Sotsugyou M".

The five Seiyuu involved were Midorikawa Hikaru, Kanna Nobutoshi (then under his original name of Hayashi Nobutoshi), Okiayu Ryoutarou, Ishikawa Hideo and Sakaguchi Daisuke.
Although popular enough in Japan to generate live shows, sell-out E.M.U tours and all kinds of other hype, Sotsugyou M (translation, Graduation M, or as is often seen on Japanese release CDs "Male Graduation M") was never translated into English or brought to the English speaking market. Consequently it is little known across the waters...despite the fact that some of the seiyuu involved are extremely well known voice artists.
But this site is an English based fansite dedicated to Sotsugyou M and E.M.U - and hopefully other people will come to be as fond of the characters as I have thanks to my random, obsessive babbledom.
Basically, Sotsugyou M is about five teenage boys in their last years of an exclusive private boy's school "Seiryuu-Koukou" (Seiryuu Academy) and their adventures and crises leading up to their graduation. The five characters are all diametrically opposite people, yet somehow they manage to maintain their friendships even in the light of some very weird happenings. Though there are elements of shounen-ai involved, it isn't a shounen-ai story - nor, despite the EMU connection, is it really focused on music except at odd points.

The bottom line is, these five boys are far from ordinary in their own individual ways. And life at Seiryuu Academy, it seems, is far from simple!

I'm working on a complete lyric collection in kanji and romaji with some translations for all the E.M.U and M music. Additionally I'm going to be adding other lyrics by the respective seiyuu too, where I have them available, and those can be found in the seiyuu section under their individual pages. There are already some uploaded although this section is an ongoing project and I don't have all the CDs they've ever released.

The site also contains detailed manga and novel summaries (possibly some manga translating in the works), drama CD summaries, scans from the manga and novels, reviews (with pictures) of the live E.M.U concerts and videos, a rundown of the M OVA releases, detailed character biographies for the major characters and smaller biographies for the lesser characters...and probably a lot more!