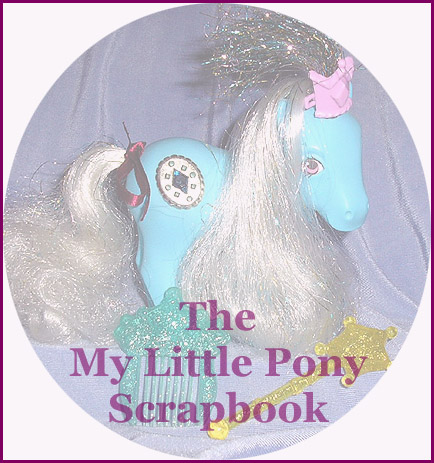 ---

::Welcome to the My Little Pony Scrapbook::

This site first began in 1998 as an answer to all of the questions being raised about UK ponies. Now, thanks to the help of many UK collectors, it is the most comprehensive source of accurate UK pony information on the web - thank you to EVERYONE who has contributed information and images to the cause!

Please note that pictures come from my own collection unless otherwise stated and no picture must be duplicated elsewhere without prior permission from the owner. Please also note that although this is a UK identification site, it contains images and information about well over a thousand little ponies, including the entirety of the North American line and also the mainstream ponies from Continental Europe, too!

(Well, you have to put things into context, right?)

At present there are two ways to enter the Scrapbook. As some of you know, the site is undergoing a major renovation. You can either access the new site (incomplete, but much much prettier! - up to date as far as the early 1990s but not beyond) or the original (complete data with search engine). It's up to you!!
---