UK Pony Prehistoric Era:
1982
My Little Pony in the UK in 1982 is somewhat murky. It's very likely that there was no My Little Pony here at all so early on - that the line began in it's native United States and only in subsequent years did the ponies trickle across the ocean and become an institution in European lands.
My Little Pony's ancestor, "My Pretty Pony" had laid the paving slabs for the new release by endearing many children to the equine concept throughout 1981. My Pretty Pony had been large - a good ten or twelve inches from hoof to ear - with a lever under her chin to wiggle her ears and a tail that, when pulled, made her eyes blink. In the early years of My Little Pony, My Pretty Pony was packaged in sets with (at the very least) Butterscotch as well, as a 'mother and baby' release. There are My Pretty Ponies which bear far more resemblance to My Little Ponies (especially Peachy).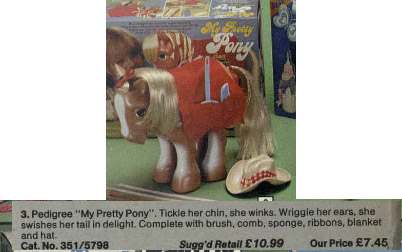 MY PRETTY PONY (PEDIGREE)
Argos Catalogue, UK, 1982 (Autumn/Winter)
Although there is very little material available for the UK in 1982, there was a release of the brown My Pretty Pony sold here during that year. This was produced, not by Hasbro, but a company called Pedigree, from which Hasbro purchased certain copyrights later on. It is significant to note that this transfer of rights happened in the UK in 1985 - the same year that, officially, Hasbro UK's My Little Pony records began. I do not know if there is a connection or otherwise - but there is no sign of the My Pretty Pony/My Little Pony sets being sold in the UK.
"Flat Footed" My Little Pony
The original six My Little Ponies came into being sometime in the middle of 1982. All were pastel colours, all in the same pose. There was only one release of My Little Pony this year - and they became known as "Flat Footed" My Little Ponies on account of their hoof design.
Though there is no documentation for My Little Pony in the UK for the years 1982 and 1983, many flat footed ponies have been found on the second hand market over here. It is my belief that they were sold here as imports from the United States - possibly re-packaged in a primitive UK style, as exhibited by some of the sets from the following years.
There are some later sets, releases and such like which cunningly integrated this original six. It is not 100% confirmed that they were sold here on card, but Butterscotch and Snuzzle were absolutely released here through legitimate UK offers. Minty is the most enigmatic, although her appearance (miscoloured) in the UK factfile and on our second hand market indicates she also came here - but at present evidence for how this set were sold in the UK is sparse at best.