1985:
Adult Sea Ponies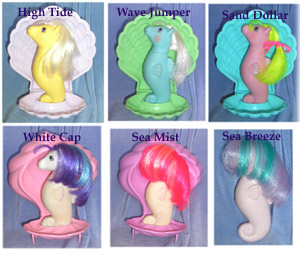 The second set of Adult Sea Ponies shared 2 common characteristics of other second sets. Firstly, they were more adventurous than the originals, with a new pose, a new style of shell and bicoloured manes for the first time. The other characteristic - and here the bitterness comes out - was the fact that they were not sold in the United Kingdom.
Even in North America, these six new characters are fairly scarce. For some reason, two in every three year three adult sea pony on Ebay shows up in Canada, but the ponies are not common, and their shells even worse.
Sea Mist, White Cap and Sand Dollar - plus perhaps one of the others but my memory fails me, it might be Wave Jumper - appeared in the second pony animated special, "Escape From Catrina", where they rescued Baby Moondancer from drowning and presided over the fashion show at the end.
Oddly, Sea Mist, WhiteCap, Sea Breeze and Wave Jumper were featured in the UK factfile instead of the sea ponies actually sold here. No idea why. They made one very small foray into one comic, but never really took off.
My sincere apologies, but I do not have Sea Breeze's shell.