1985:
Earth Ponies

("Groom 'n' Style")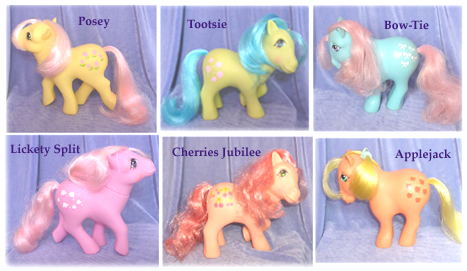 My Little Pony was coming on in style and design in leaps and bounds by 1985. This set of Earth Ponies, also labelled "Groom and Style" ponies on Hasbro UK's listing, were some of the first ponies to feature curly hair as well as two new poses for that year's release. Applejack and Bow Tie were retained from the previous Earth Pony set, though both had undergone changes. Pictured above are the UK releases for each pony - in North America they kept their original poses but added curly hair to their ensemble. More information about those can be found on Applejack and Bow Tie's individual pages. Bow Tie herself, along with new ponies Cherries Jubilee and Lickety Split, were given curly hair in the UK release. In the UK, at least, according to the 1985 Argos catalogue, they retailed for £2.85.
These were pretty notorious ponies in the UK. Released the same year was the My Little Pony Picture Disc, a record that featured seven songs and a story and which was later re-released as a song tape. This year's ponies had a fair bit going on around them. See the 1985 Media page for more information.
Applejack was still the clumsy one and Bow Tie the hairdresser. Cherries Jubilee was the carnival queen, and Lickety Split had a passion for ice cream. Posey inherited the mantle of My Little Pony gardener from Blossom, and Tootsie had the endearing habit of muddling her words.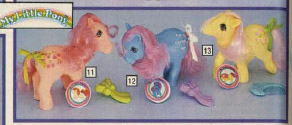 IMAGE FROM ARGOS CATALOGUE, 1986, showing 3 GROOM and STYLE PONIES
Hasbro UK had already proven themselves obsessed with teaching kids to braid pony tails throughout 1984, with the graphic appearing in various forms on many different pony cards. There is really no surprise, therefore, that this set were gimmicked on that whole concept of styling. This was not just a case of curly being the new fashion, however. Hasbro were all over the straight hair style as well - as proven by the fact each type of pony from the set had a slightly different instruction on her card: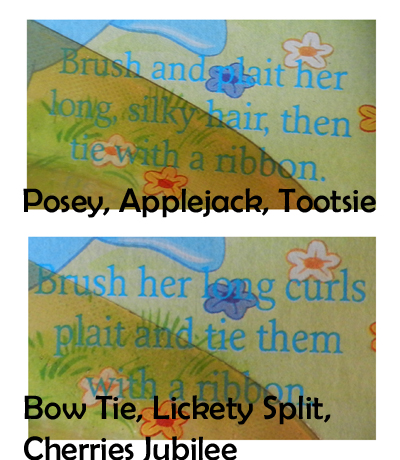 Instructions on the Groom & Style Cards
(depending on straight or curly hair)
Unwisely, Hasbro's obsession with braiding (plaiting) even inspired them to tell kids to braid even curly hair. Not a good plan, and possibly a good reason why there are so many ponies from this era who lost their curls.
All four of this year's new earth ponies would go on to be re-released or modified in some form.