1985:
Multimedia
(featuring
"Groom 'n' Style Ponies ")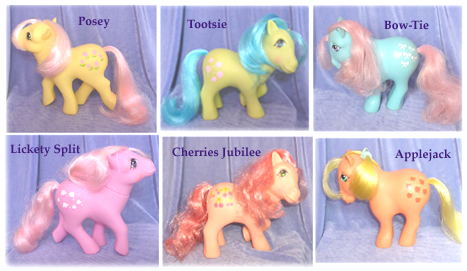 SEVEN SONGS AND A STORY: RECORD & CASSETTE
"My Little Ponies live at the edge of the Rainbow Forest. Theirs is a magical world, where every day brings a new adventure..."
These immortal words opened the story for the My Little Pony Picture Disc, the reason, I would guess, that this set of ponies gained such popularity in the UK. It was later released on cassette (I had it in this format), and it featured "Seven Songs and a Story"
The song files from my MLP Media site have long since been spread to Youtube, but they are still available here for anyone who is interested. The files are recorded from my cassette, which shows some audio wear from being played to death when I was small. (I still know the words to most all of the songs and the text, even after almost 30 years ><). I have broken it down into eight segments. All files are zipped.
| | | |
| --- | --- | --- |
| | | |
| "Applejack is such a silly pony, she's doing everything that she should not." | "Bow Tie loves ribbons and curls." | "If there's lots and lots of strawberry ice cream, then Lickety Split will eat up all you've got!" |
| "Posey is a pony with a pretty garden..." | "Cherries Jubilee makes rainbow garlands..." | "Tootsie is a lollipop girl." |
| | | |
---
MY LITTLE PONY PONYWEAR COMMERCIAL
Featuring
THE GROOM AND STYLE PONIES
(1985)
Not a lot of purely UK commercials have survived, which is a bit sad (or, if they have, nobody is so far sharing them!) This advert, though, featuring the Groom and Style Ponies as the "models", is somehow quintessentially British, both in its humour and it's dialogue. It appeared on the BBC's "I love 1983" show, and here is the audio file for the commercial.

I'm not sure whether "Birthday Suit" is a common euphemism outside of the UK, but it essentially means, she turned up without any outfit on at all...ie, naked ;)