1987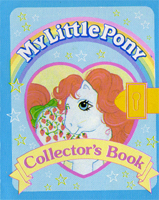 1987 was a big year for My Little Pony. As well as being the last year for the television series, this year also gave the UK it's answer to the So Soft Phenomenon. It also saw the first adult Boy Ponies - including the set that was sold almost exclusively in the UK (those rugged Mountain Boys!). Baby Ponies grew a first tooth, Baby Sea Ponies had printed necklaces, adult ponies developed symbols that spread across their bodies and Princess Ponies had dragons or bushwoolies in attendance, depending where in the world you lived! Plus, the newest and smallest members of the pony line so far were introduced - the adorable "newborn twins" with their slew of accessories.
Along with these newcomers, however, there were several old friends. 1987 was the last year for Twinkle Eye Ponies, So Soft Ponies and Flutter Ponies. It was also the last year that the 'traditional' My Little Pony style would be used and, sadly for the UK, the last year included in the My Little Pony fact file (which came into being in 1987). I may be alone in this, but 1987 always seems to be something of a watershed in the original pony line because of all this change.

Confusingly, the early part of 1987 had one insert (featuring the Mountain Boys and so on,) whilst the end of the year into 1988 had a different one (the front cover of which is scanned above), and this one contained the Party/Twice as Fancy Ponies. A later version of this same insert was updated and released in 1988 proper, with some of the advertised ponies changed.
And there were new playsets, too. The Crimp and Curl Hair Salon for pony styling, the Satin Slipper Sweet Shoppe for all the sweet treats and of course the legendary Paradise Estate. Gifted to the ponies in My Little Pony the movie, it was the biggest playset of all and retailed in the UK at £60 - a huge amount of money for a pony playset even now.