1987:
Princess Ponies and Attendants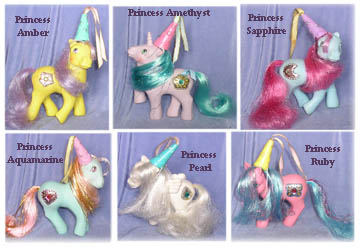 Ponyland wouldn't be Ponyland without Princesses. The original six Royal Ponies were introduced in 1987, with jewelled medallions for symbols and tinsel in their hair. Obviously meant to follow some Mediaeval theme, each had a damsel hat in unique colours, with flowing ribbons edged in metallic thread. They were sold all across the world, but in many different ways.
The North American release included 'bushwoolie' characters with each princess pony, as these were the cheeky little fluffballs who had helped the Princesses rescue their wands in the Quest of the Princess Ponies animated episode. In the UK, however, the Princesses had baby dragon attendants, much like Spike. And, considering the mythology associated with dragons in these islands (the tradition of the Welsh red dragon and the English green one still holds true enough in the tales of St George and the Dragon and, of course, on the Welsh flag to this day). Like with the hats, each dragon was individual to each pony. In the UK at least, each Princess was named after a gemstone. These names were not the same in the United States. (I feel I must mention that, because I get fed up with people emailing me to tell me I've got them named wrongly on my website! LOL)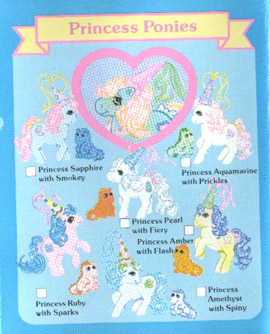 PRINCESS PONIES: 1987 Second UK Insert.
The Princesses feature on three UK inserts, all of which are dated to 1987. However, it's pretty conclusive that the lines which they represent are actually spread across 1987 and 1988, judging by the ponies depicted on each one. Though mis-labelled on the original insert, their names are correct by the time this second one was printed. Each pony is shown with their - technically - correct damsel hat, also (though it's worth checking each princess pony's page for more on that, since there's nothing so straight forward about the accessories over here in the UK! Please also see Lady Guinevere's Survey Results for further information)



PRINCESS PONIES: Hasbro UK Booklet 1987
(Thanks to Pranceatron for this image)
It's also worth mentioning that in France, the Princesses were sold on cards with accessories but without any of the attendants. I believe other European countries may also have had this edition, but I can't be sure. Germany also had a release (on card as well, without attendants) featuring Princess Ponies based on these but with different coloured hair. More on those in the German section.