1988:
HAPPYTAILS PONIES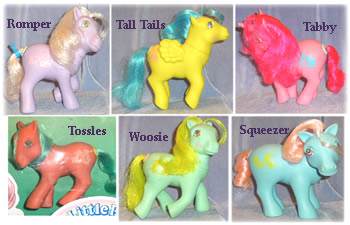 The Happytails Ponies were an element of pony insanity coupled with basic colours and animal themes. They were made of soft, pliable plastic and, when you squeezed the pony at the withers, the tail would turn and spin around. Yes, they could wag their tails at you! LOL :) Each pony had an animal symbol, and was also sold with a false hair pick and an animal clip to go in the tail (You can see a picture of this last on Romper's page - my pony is wearing hers in her tail!) As with many sets, the group included one pegasus, one unicorn and four earth ponies. Arguably this was the foundation stone for the 1989 set of "Dance 'n' Prance Ponies", which would take the tail spinning antics to new levels!
If all of this wasn't classic and crazy enough, the names these ponies were given are among some of the most eyebrow-raising. What kind of naming meeting conspired to give us "Woosie", "Tossles", "Romper", "Tall Tails" and "Squeezer" in the same set is an intriguing thought - they sound like the result of a wild night out on the town!!
There is still a huge amount of debate surrounding the Happytails Ponies and whether or not they were actually sold here in the UK. Certainly they were sold in North America, and there was even one variation to the line in the pony "Woosie" (see her page for more information on that!)
Some UK collectors have mentioned having these as children - but there is a general dearth of them on the UK second hand market. In contrast, they are plentiful on the North American market. The solution may in fact lie in the various imported end of line ponies that hit UK shelves at different points during the eighties. Certainly I have found Mint in Box Happytails ponies here in US boxes, complete with UK clearance price labels on the front. My suspicion, then, is that they were never sold officially in the UK - but were one of the clearance lines shipped over from the States and distributed in a limited number of places. Certainly they never appeared on any UK merchandise or literature. Oddly, however, many of the "odds and ends" weird variation ponies found in this country comprise parts of Happytails ponies, including the most infamous of all - "Bobbie"!
There have been many rumours that lavender Woosie is a UK variation. To date those are completely unfounded, since the lion's share of collectors who had her from new as children live in the United States.