1988:
NEWBORN TWIN PONIES
After the big success of the Newborn Twin Ponies in 1987, Hasbro introduced six more pairs of cuties onto the scene in 1988. These would be the last set of newborn twins to ever be made, though the newborn theme would continue on into later years.
The above image comes from the year 6 United States insert, and has been horribly butchered by me!
As with the first set, not all of the six sets were sold in the United Kingdom. Hasbro chose three to release here - one unicorn set, one pegasus set and one earth pony set. Each set of twins was also given a different name in the UK from the United States release, and it is these names that are given for the links on the right of this page.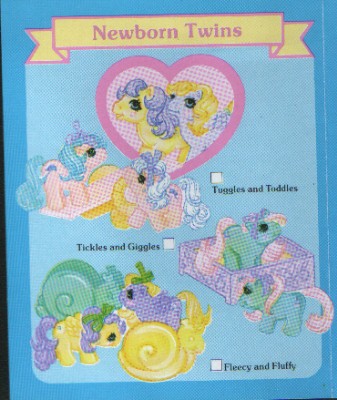 Newborn Twins 1988, (UK Insert, UK release)
The three chosen sets appeared on the collectafile insert which, though dated 1987 actually featured more ponies from the 1988 release. Each was pictured here with correct UK names.