1988:
PONY FRIENDS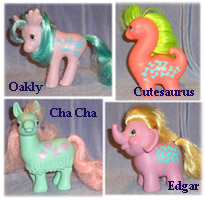 Pony Friends never seemed to be quite as popular as the ponies themselves and this second set would prove more obscure on the second hand market than the original characters had the year before. Now sold in boxes instead of on cards, Hasbro added a llama, a moose, a dinosaur and an elephant to the menagerie of animals that also lived in Ponyland.
This year there were two male characters and two female characters introduced.
None of the Pony Friends were ever sold in the United Kingdom, despite copious rumours to the contrary.