1988:
PRINCESS PONIES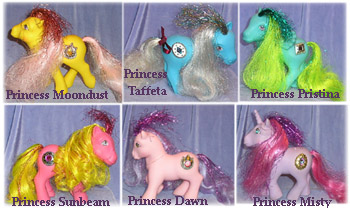 The second set of Princess Ponies were very different from their 1987 predecessors. These characters had no attendants - bushwoolie or dragon - and as well as having hair streaked with tinsel, they also had a 'spritz' of the same colour tinsel at the front of their heads. Sort of a glitzy forelock, if you like. (Well, it was the eighties!)
When new, each Princess came with a crown hair clip to hold these spritzes in place. Unfortunately, I only have the clip belonging to (I believe) my namesake, so the pictures are rather limited in this department. Logically, crowns for this set are extremely difficult to find!

They also had wands, ribbons and combs like the original year of Princess Ponies did. These are also hard to find on the second hand market. They did not have damsel hats.
None of this set were ever sold in the UK, and nominally Princess Taffeta and Princess Pristina are the more difficult characters from the set to find...though because of the nature of their hair, the tinsel spritzes can often be cut, damaged or just raggedy!