1988:
SUMMER WING PONIES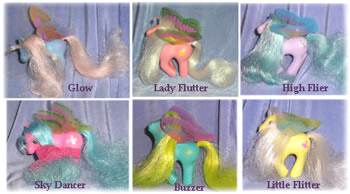 Summer Wing Ponies were Hasbro's next experiment in the delicate wing department. After the beautiful but obviously problematic two years of Flutter Ponies, the concept was scrapped and reborn in these six little ponies.
Far smaller than the Flutter Ponies, they are often confused with Baby Ponies - although they are meant to be tiny adults. Their wings, instead of having a tricky flutter mechanism were simply attached to their back beneath a small square of plastic, and were made of a sturdier plastic. Of course, it did not prevent all accidents befalling the ponies - but it is far easier to find Summer Wing ponies on the second hand market with their wings intact! Each pony also had a miniature cheek or nose symbol like the Flutter Ponies before them, proving that they were indeed an evolution on the same theme.
The Summer Wing Ponies were all based around the theme of insects and birds, with symbols that fit that concept. Their wings were bright and multicoloured, a fact which often has Ebay sellers referring to them as "butterfly" wings...and indeed their tiny size adds to that effect. Collectors tend to label them "wingers" because of their set name.
The theme would prove popular enough for there to be a second set issued on the same basis in 1989 -though these would be called "Windy Wing Ponies" and would be based on a theme of space and climate. It's easy to get the two sets confused at a glance - though on further inspection it is usually fairly clear from the symbol what set they belong to!