1989:
PRINCESS BRUSH N GROW PONIES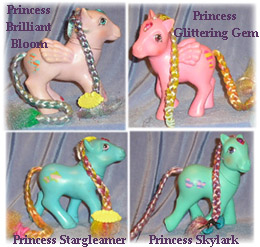 After the success of the Brush & Grow Ponies the year before, Hasbro decided to remix the concept and add a touch of royal flair to the set in 1989. Four characters - two earth ponies and two pegasus ponies - were introduced as Princess Brush N Grow Ponies, although unlike earlier Princesses, they did not come with fancy hats or magic wands.
These beautiful newcomers had the same long hair and growing tail mechanism as the original set, although their manes were not rooted as thickly and instead were rooted with coloured tinsel, to emphasise their royal status. Each pony also had a coloured 'gem' on her forehead, to denote her special lineage.
In the North American commercial for this set, Princess Star Gleamer was represented in the same pose as unicorn ponies Fizzy and Galaxy, although when it came to actual release, she was made in a more traditional earth pony pose. The use of the unicorn pose in the prototype, however, is indication of why this set did not contain a unicorn - the horn and the gem would obviously clash.
All four of the Princess Brush & Grow Ponies were sold in the United Kingdom. They were also available during the years Hasbro gave away free make up with the ponies, and many came with additional make up supplies. However, it seems that Princess Brush & Grow Ponies in the UK were sold with fake nail polish as standard, whereas they were not in the North American release. Certainly my childhood Princess Star Gleamer came with a small bottle of red children's nail polish, and she was featured on the bottle's label. (I still have this, somewhere around...when I find it I'll add a photo!)
The princesses were also sold with hair accessories including I Luv You clips, like their anticedents.
As seems to have been the fashion with this year's pony releases, they were also introduced in the pony comic, in a pull-out-and-keep booklet that children could colour (part of My Little Pony comic #105).