1989:
WINDY WING PONIES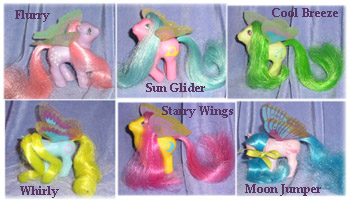 After the Summer Wing Ponies of the year before, Hasbro remixed the same theme and came up with six new characters. This year they were called "Windy Wing Ponies", and instead of being all about birds and insects (birds and bees?) they followed meteorological and space-based themes.
The two sets are easily confused with one another, but it is quite simple to figure out whether you have a Windy Wing or a Summer Wing pony just by looking at the symbol!
The distribution for the Windy Wing ponies in the UK appears to have been a bit wonky :S Some areas do not seem to have had them at all, and they are certainly more difficult to find on the second hand market. This would seem to be true worldwide, also, since several of this set are sought after on the second hand market.
As a rule, Windy Wing ponies are more in demand among collectors than Summer Wing ponies, simply because of a more limited availability.
In the comics they were said to live in a place called 'Windy Hollow' - though I wouldn't like to guess whereabouts in Ponyland that might be!