1994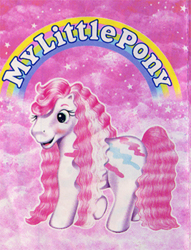 1994 was the final year of My Little Pony in the United Kingdom. Although there would continue to be slash-priced clearance ponies on store shelves throughout this year (and, in some places, even into 1995 and beyond), the new drive for My Little Pony was officially at an end.
The last line of My Little Pony includes some of the rarer UK ponies, although people are under the common misconception that because they are newer than some of the rest, they should be easier to find.
On the contrary, although these were officially released in the UK - they did not come to all parts of the United Kingdom. My own region did not stock any of the ponies from this year at all, merely continuing to sell the 1993 ponies and then slash-priced German packaged Rockin' Beat Ponies and others instead.

They were definitely sold in the South East, and they seem to have been sold in other parts of the midlands, as I have found them second hand at carboot sales and the like. I know they were also sold in North Wales, since our Great Hair ponies came from a store in Aberystwyth. Although the Seven Characters were re-released as part of this year, I don't remember the versions with stickers being out on shelves here. For that reason, I have kept them with 1993.
Great Hair Pony Ringlets became the poster-pony for this year's release. Ponies were sold on the same garish pink cards as the previous year, and sets had combined stories instead of individual ones again.
Probably the hardest ponies to find from this year were the "twins" that belonged to the very odd Surprise Twins Pony.