1995:
Mijn Kleine Pony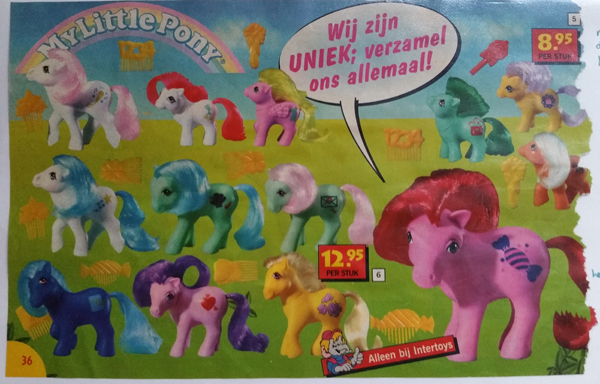 INTERTOYS ADVERTISMENT (1995)
(Thanks to Shivhae for this image and for the information about the issue of these ponies)
The final line of My Little Pony were produced for the Benelux countries, with a few apparently becoming available over the border in Germany. All of them were based on ponies that had been created in the previous few years, but had different coloured bodies and manes and tails. All were sold on pink cards in German and Dutch. These cards resembled existing earlier cards in terms of their colour and their artwork and they did not have stories.

They were sold through a company called Intertoys and were apparently advertised in time for the Sinterklaas holiday at the start of December.
These ponies were not sold in sets exactly, and there were some unique features. Although a cheaper version of earlier released My Little Ponies, these are now some of the more sought after ponies on the second-hand market.
There are thirteen ponies in total in this collection, and the advert above encourages children to "collect them all" as they are all "unique".