1986: The Baby Pony Stroller
BABY LEMON DROP
(and the Baby Pony Stroller)

Pale yellow baby pony with lavender mane and tail, purple raindrops symbol.
The second edition of the delicate stroller was sold with a new Baby Pony character based on one of the much loved early adults - Lemon Drop. Her stroller, like that belonging to 1985, matched the baby pony with which it was sold, for it was in lavender this year. It is also more difficult to find on the second hand market than the original stroller, especially unfaded and undamaged.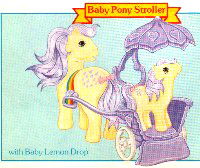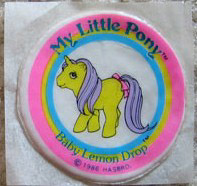 THE BABY PONY STROLLER and STICKER
(1986 insert, 1986 release)

Though it's never been clear if Baby Bow Tie had a sticker (there is no mention made on her box!), Baby Lemon Drop certainly did. For some reason, however, Hasbro displayed her as a baby unicorn! Thanks to Goddessofpeep for the scan above :)


"Baby Lemon Drop and Stroller"
(Argos Catalogue, 1986)
According to the Argos Catalogue, Baby Lemon Drop was also sold with a teddy brush, a nappy and a rainbow striped "travel rug". I have never had this pony mint in package, so I do not know how accurate the catalogue photo is for her accessories.
Baby Lemon Drop was not only issued in the UK, however. In Continental Europe she was sold on card with a bottle and a comb. This Baby Lemon Drop was in the same pose as Baby Blossom or Baby Cotton Candy, and not in the "shy" pose used by Baby Bow Tie or the Embers.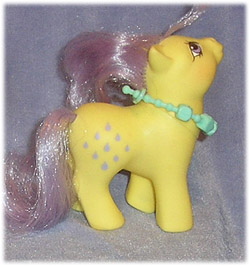 BABY ZITRÖNCHEN
(BABY LEMON DROP - CONTINENTAL ISSUE)

This version is most often thought of as "German", though we know for sure that she was sold in Austria and Switzerland also, and she may even have spread into non-German speaking countries such as France (though there is no evidence as yet for this either way.). Her German name is Baby Zitrönchen (Baby Little Lemon) and she was sold as part of a set including Baby Cotton Candy and unique characters Baby Blümchen (Buttons), Baby Bienchen (Honeycomb), Baby Kirschblüte (Cherries Jubilee) and Baby Hopsi (Hopscotch).