USING THE SCRAPBOOK
~Last Updated:15th April, 2015~
This site has grown and evolved a lot over the last 18 years, but the fundamental basics have not changed all that much.
The Scrapbook is an ID site, but it is not an MLPWiki. Instead, it is an attempt to catalogue the history of My Little Pony from a UK perspective. This includes identification information, but also distribution, sales, price, advertising, characterisation, promotion and collector memory. It is the only site dedicated to this side of My Little Pony, and the first site dedicated to giving the UK story first.
The search engine should now be up and running, allowing direct search of pony symbols, colours, sets and other things. This site ONLY deals with Generation 1 My Little Pony.
The diagrams below explain how best to use the site as a source of information and pony history. If you still can't find your pony after searching the site, please do not be afraid to send me an email and I will try my best to help you out!
DIAGRAM OF NAVIGATING THE SITE PAGES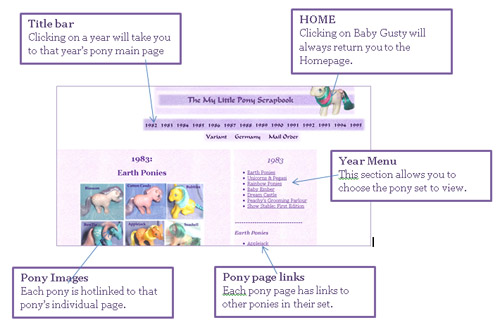 NAVIGATING AN INDIVIDUAL PONY'S PAGE
(Exact details may vary depending on set/style)