1987: Party Ponies
LOLLIPOP

Aqua blue earth pony with dark pink mane and tail, pink, purple and white lollipops spread over back and haunches, small lollipops on cheek.
Lollipop - logically and rather obviously named, in my view - was an important character in the My Little Pony comic. For years before her, Gusty had played the role of Baby Pony nurse, but now Gusty was being sent down Memory Lane with many other old favourites, and Lollipop was the pony chosen to step into her horseshoes. Often styled in the comic as "nurse" Lollipop, and pictured with a nurse's cap, collectors could be forgiven for thinking she was sold in such a release. But this was all in the imagination of the comic writers, and the pony herself was simply a part of the Party Pony set.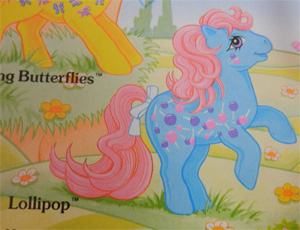 LOLLIPOP: CORRECT UK RELEASE NAME
(Dancing Butterflies' UK backcard, 1987-8)
Lollipop was called Sweet Tooth in the North American release, though there are no variations between the pony sold there and here. She is meant to come with curls in her hair (my MOC German one has very curly hair), though our loose one (pictured above) has dropped quite a few of hers along the way! As with any curly haired pony, frizz or no curl are always common factors second hand.
The accessories I have given for this pony are based on what my MOC German Lollipop has, due to the fact the style of card is the same as the UK release. This normally indicates the same accessories, but if anyone has a MOC UK-carded Lollipop that begs to differ, please get in touch so I can make a correction (or a confirmation!).