1993: Seven Characters
MELODY

Neon pink earth pony with blue mane and tail, yellow microphone with blue stars and notes symbol.
Melody was the rock star of the generation, singing with her band the Rockin' Beats and entering competitions (even behind her mother's back!). A little self-absorbed, but goodhearted deep down, Melody loved to be the centre of attention and usually succeeded in her aim.
The 'Rockin' Beats' she played with in the animation and in the comic were based on the Rockin' Beat ponies sold in earlier years, and even featured the same names (although the ponies themselves were no longer officially on sale by this point)
Melody also had another incarnation, as a Rollerskates Pony.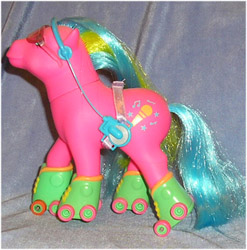 ROLLERSKATES MELODY
(Europe/UK: 1993)

Rollerskates Melody featured an extra streak of yellow in her mane, though she kept the same symbol as her original release. Distinctively, she had moulded on rollerskates (which easily lose wheels over time and with age). The leading skate contained a pullback mechanism, allowing her to be pulled back and sent to 'rollerskate' on a smooth floor (the rear hoof's skate also bore proper wheels, although the rest were simply moulded on).

Melody was also sold with sunglasses and a CD-walkman (very up to date for the time) in the colours shown in the photograph (blue headphones with lavender waist ribbon).

The glasses and headset are often missing from the pony when found second hand.

Melody was also the basis for one of the 1995 Dutch release ponies, Meezing-Pony.