CURRENT SITE
UPDATE STATUS

8th June 2017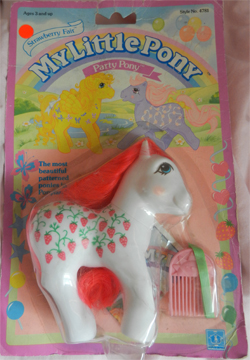 Another childhood collection MIP grail arrives :D
This month I received a grail MOC pony that I took me right back to my childhood - Strawberry Fair! She and a lot of other MIP images are being added to the site pages! Check them out!
New additions:
The site is now complete and underway.
I am still proofreading,editing and amending issues with a few links as my proofreaders find them!
If you can help by donating a missing MIP image, please get in touch via the email button.

I am always available to try and answer any ID or UK pony enquiries via email, even if there are gaps on the site!
Top image:
Sweet Scoops (mine) and Baby Billie variant (Lady G's) pose at the Birmingham UK PonyCon, October 2006