Variations and Oddities

This site always has had a variant section, but the world has moved on quite considerably in variant terms since I first posted Italian ponies and started comparing their symbols and eyes to normal release. There are a ton of very experienced and well informed variant collectors in the pony community, and the genre is so widespread now it has its own name - "Nirvana". Nirvana ponies are those made in places other than the mainstream issue line, and incorporate anything from Italian to Argentinian, Brazilian to Greek, and lots of others besides.
For advice about these, I suggest you visit the MLP Arena Nirvana section, where many people are able to help you with your pony.
This page provides a brief visual glimpse of some variant genre examples from my own collection (except Tornado, who appears here courtesy of Lady Ruby. Please note Thailand is the normal place of manufacture for the American Fancy Pants Babies!). I am not a big collector of Nirvana, so this is just a taster of style.
Also in this section, via the links to the right, you can find some images of the weird, wonderful and wacky variations that belong to the end of the UK line (like Rubeta, at the top of the page!). I have also compiled a quick-reference list for people's use comparing the UK/US or European versions of ponies in order to help identify which version you have. Each contains a link to that pony's page for more detail.
---
NIRVANA PONIES: EXAMPLES
---
---
---
Other Variations
Japan's My Little Pony line, made by Takara (from 1985) are not based on traditional My Little Pony at all. Fakie versions of Takara style ponies were sold in parts of Europe.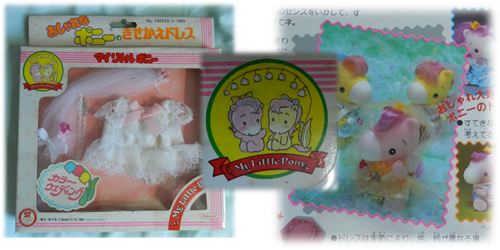 JAPANESE MY LITTLE PONY マイリトルポニー (Takara)
(images from
Oshare na Pony
(Fashion Pony) set "Colour Wedding" fashion)