1989:
PLAYTIME BABY BROTHER PONIES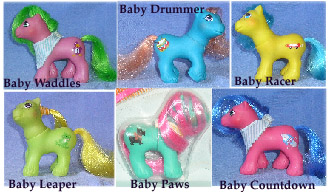 Well, the observant people will be wondering why exactly there is a divide down the middle of this set in the right hand link frame.
In honesty, I struggled for a long time trying to work out how best to tackle the problem of the Playtime Baby Ponies. In the end, this seemed to be the simplest way.
You see, what was two sets in the North American release was actually bits of one set in the UK.
The Playtime Baby Brother Ponies consisted of six new boy baby characters, each with clydesdale hooves and freckles across their noses. Each one was sold with a striped bandana (and some of mine are wearing these on their pages) among other accessories. However, only Baby Paws and Baby Drummer were sold in the UK. They were released as part of a set called the Playtime Baby Ponies, which also incorporated four of the six Fancy Pants Baby Ponies (more on them on their own page!)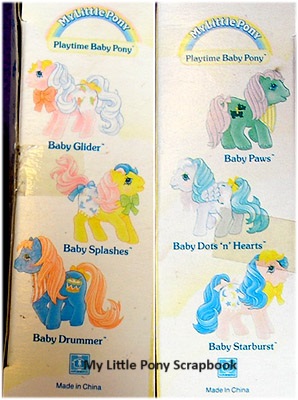 Playtime Baby Ponies: From Baby Splashes' Box (UK,1989)
Baby Countdown, Baby Racer, Baby Paws and Baby Leaper were not sold in the United Kingdom. Baby Racer and Baby Leaper especially are hard to find on the second hand market, not to mention their accessories!
Each baby boy had the same style of Peekaboo head as used by the Peekaboo Babies, but they used different head moulds and are distinguishable at a glance from the Peekaboo boys because they had freckles and the Peekaboo babies did not.