1988:
PEEK-A-BOO BABY PONIES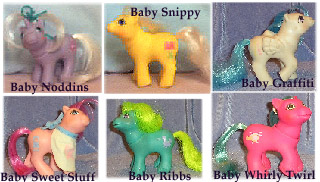 This set was another phenomenon that was completely overlooked by Hasbro UK. Although the gimmick of the turning head that these six characters introduced would later be seen in the UK release, none of the Peek-a-Boo Baby Ponies were ever sold in the United Kingdom.

This was a landmark set in a number of ways, but most significantly because of the mixed gender of the characters. The set featured four girls and two boys - the first baby boy characters to be made with clydesdale hooves to imitate the Adventure Boy Ponies and Big Brother Ponies. The set also consisted of one baby unicorn, one baby pegasus and two baby earth ponies.
A nice balanced mix, you may say!
Each Peek-a-Boo Baby was sold in a box and was issued with a bib as well as the regulation hair accessories. Each bib had a different colour edging, and whilst the girls' ones bore apink butterfly design, the two boys had blue teddy bears. Baby Sweet Stuff is shown wearing her bib in the picture above.

These bibs are moderately hard to find on the second hand market, as most babies have lost them over the years.

As has already been mentioned, these babies also featured the gimmick of the turning head. Instead of the normal head seal, these ponies each had heads which operated on something kin to a 'ball and socket' joint, allowing great mobility. Yes, they really could play 'peek-a-boo'!
In Argentina, versions of all these babies were made in Baby Graffiti's pegasus pose - with a variety of colours.