1993: Seven Characters
STARLIGHT

Pink earth pony with yellow mane and tail, yellow star trailed by blue stars symbol.
Starlight was always cast in stories as the sensible, level-headed member of the group (although she did have one fatal weakness - a crush on the class football star, Ace!). She had dreams of being a teacher, and often sought advice from the girls' school teacher, Ms Hackney. Consequently she was often put into positions of responsibility, and (so long as Ace wasn't involved), she generally managed to keep objective, even when her friends were picking sides.

Starlight's mother was given as a pony hairdresser and her family ran the local ice cream shop, where she and her friends always hung out after school.
Starlight the pony was sold in two forms - the above basic Seven Character form, and also as part of the Hairdo Ponies set, where she was given a pearlised makeover and an additional streak of dark pink in her now much longer hair. It can probably be assumed that this release as a Hairdo Pony was part of the reason why the animation producers chose to cast her in the role of haidresser's daughter, since Starlight often used the parlour to style her friends' manes and tails.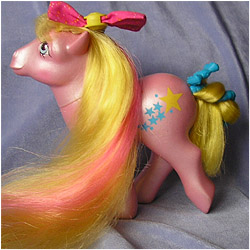 HAIRDO PONY: STARLIGHT
(Europe/UK: 1993)

The Hairdo issue of Starlight also came with bendy plastic twisters in her mane and tail in order to better facilitate styling. (These are occasionally missing from ponies in second hand condition, although they are quite strong and are more likely to be chewed or warped than actually ripped out)

Starlight was also the basis for one of the 1995 Dutch release ponies, Sterretjes-Pony.