1993: Seven Characters
SWEETHEART

White earth pony with dark pink mane and tail, large pink and small orange hearts symbol
As her name implies, Sweetheart was the 'sweet' member of the group, often trying to make peace and prevent arguments. She insisted on befriending even the rough, tough rebel of the class (who she secretly liked more than she let on), and sticking up for him on occasion even when it put her against her friends. Sweetheart always put others before herself, and often overemphasised the things she said, using phrases like "really truly" and "especially" in excess.

Sweetheart the pony also had another release in the following year as one of the 'Nurse Ponies', which may have been inspired by her 'kind' nature.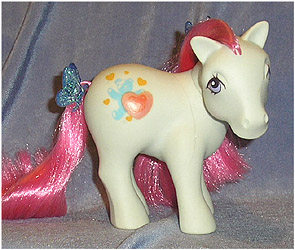 NURSE SWEETHEART
(Europe/UK: 1994)

Nurse Sweetheart has a different symbol - featuring the hearts but also an injured teddy bear, and the heart is heat-sensitive, revealing a bear's face when touched with warm water. Sweetheart also came with a Nurse's cap (made of white plastic with a red cross on the front) and this slotted into holes placed discreetly either side of the pony's mane. (Sadly my Sweetheart is missing her nurse's hat, as these are extremely hard to find on the second hand market).

Sweetheart was also the basis for one of the 1995 Dutch release ponies, Hartjes-Pony.