The UK My Little Pony Comic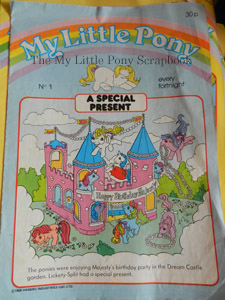 1985-1993
This would not be a true UK My Little Pony website if it did not make mention of, or pay homage to, the wonderful, wacky and extremely diverse ponylore that came to us as children through the My Little Pony comic.
There were 223 issues of the comic in all, which ran from 1985 and ended at the close of 1993. Additional to this, there were around 50 volumes of My Little Pony and Friends comic, which ran sporadically during that time period and featured additional stories for other popular eighties toys (such as the Moondreamers and the Glo Friends).
Dotted across this website are scans, comments and anecdotes drawn from this wealth of pony storymaking. Whilst for a lot of collectors, "canon" is the TV series, the reality is that only a small handful of released ponies were ever featured in animation form. The UK comic, by spanning such a long period, managed to give characters to almost all of the ponies sold here (and a few others besides). For me, that makes the UK comic the true character canon.
Many of the comic characters also had some connection to backcard stories. These came from Hasbro direct, which adds credibility to the idea that the comic is truer to canon than the TV series ever could be.
I realise I have bias in this - but nonetheless, I believe it to be the case.
Versions of the Pony Comic were also sold in European countries. I have a few examples, in German and in Finnish, but I do not know how many other versions exist. For that reason, I am keeping this to the UK comic only.
I have no intention of uploading whole comics. Aside from the drain on the server space, comics are something best enjoyed with the feel of old paper between your fingers, not scrolled up a computer screen. But, to give the feel of the comic magic, I have uploaded some odd stories from various years to provide a flavour. All are scanned and zipped. Any damage to the comic is probably from years of living with me...

~STORY SAMPLES~
1985

The Enchanted Mirror MLP Comic #1, Summer/Autumn 1985
(The secret to Pony reproduction ;))


---

The Silver Challenge Cup MLP Comic #5, Autumn/Winter 1985
(Showjumping with the early ponies!)

1986

Sea Shimmer and the Sea DragonMLP Comic #18, 1986
(Sea Shimmer meets a dragon...)


---

The Magic Ribbon:MLP Comic #34, December 17th, 1986
(My Little Pony's Christmas play!)

1987

There's Magic in Misty Mountain (Part One) MLP Comic #49, July 16th, 1987
There's Magic In Misty Mountain (Part Two) MLP Comic #50, July 30th, 1987
(introducing the Mountain Boy Ponies!)


---

The Autumn Jamboree MLP Comic #56, Autumn 1987
(Featuring Magic Star's special magic...)

1988

Masquerade And The Merry Moonshee MLP Comic #76, July 28th, 1988
(introducing Fleecy and Fluffy)

1989

Sweet Celebrations MLP Comic #91, 23 February 1989
(Introducing the Sweet Celebrations family. Sorbet Surprise mis-drawn as Chocolate Chip throughout)


---

The Magic Shoes MLP Comic #96, May 4th, 1989
(Baby Bouncy gets more than she bargained for from Majesty's magic horseshoes!)

1990

Tappy And The Crotchety Troll MLP Comic #126, March 1990
(An adventure with Tappy and DJ)
Sailing Into Adventure (plus supplementary introduction to the Tropical Ponies with their proper UK names)

MLP Comic #146, December 1990


Introducing the Tropical Ponies!

Miscellaneous

Comic Advertisments: These adverts appeared in more than one issue of the MLP comic, but I have noted the edition from which I have scanned them.


---

Picture Disc (Seven Songs and a Story) (My Little Pony Comic #1, 1985)
Dream Castle (My Little Pony Comic #5, 1985)
Megan and Sundance (1) (My Little Pony Comic #14, 1986)
Sticker Book (My Little Pony Comic #16, 1986)
My Little Pony Wear (Featuring Gypsy, Snowflake, Hopscotch and Honeycomb) (My Little Pony Comic #17, 1986)
Baby Pony Stroller with Baby Lemon Drop (Featuring Hopscotch in Carnival Time) (My Little Pony Comic #19, 1986)
Confetti in "Wedding Bells" (My Little Pony Comic #20, 1986)
Baby Pony Wear (Featuring Play & Care Set Babies) (My Little Pony Comic #21, 1986)
My Little Pony, The Movie (My Little Pony Comic #23, 1986)
Glitter and Glamour Pony Wear (Featuring the Twinkle Eyed Ponies) (My Little Pony Comic #28. 1986)
1987 Annuals (My Little Pony Comic #32, 1986)
Tutti Frutti's Birthday Party (My Little Pony Comic #48, July 2nd, 1987)
My Little Pony Play and Wear (Featuring the "Movie Star" Ponies) (My Little Pony comic #49, July 16th, 1987)
Megan and Sundance (2) (My Little Pony Comic #50, July 30th, 1987)
The Fact File (My Little Pony Comic #56, 1987)
Paradise Estate (Featuring the "Movie Star" ponies, Twinkle Eye Ponies, Sea ponies and Wing Song - big picture,scrolling required) (My Little Pony Comic #59, 1987)
Kiss Curl's Grooming Parlour (My Little Pony Comic #76, 1988)
Baby Buggy with Baby Cuddles (featuring "Movie Star" Buttons) (My Little Pony Comic #85, 1988)
Mummy Charms (Comic 92)
Loving Family Ponies (Comic 97)
The Perfume Puff Palace (Featuring Lavender Lace and Daisy Sweet) (My Little Pony Comic #117, 1989)
Who's New In Ponyland? (Featuring new ponies from 1990) (Comic 129)
Petite Ponies (featuring Cherry Treats) (Comic 138)
The Show Stable (Second Edition) (comic 140)
My Little Pony Activity Club 1991 featuring Baby Fun & Games (comic 155)
One of 20 Rainbow Baby Ponies to win (Comic 181)
Win a Pocket Friends Pony (Comic 183)
Sweet Clover and the Picnic Playset Competition (Comic 185)
Win a Cookery Pony Competition (Comic 189)
My Little Pony Annual (Comic 191)
Win a Sweet Talking Pony (Comic 191)
Win a Romance Pony (Comic 193)
My Little Pony Kitchen Advert (Featuring Nice & Spicy misnamed) (Comic 195)
Final Issue - promoting My Little Pony & Friends featuring Patch (comic 223)