1987:
Twinkle Eye Ponies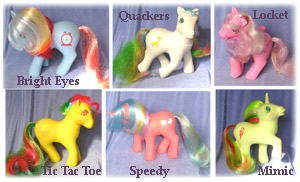 1987 was a year for several set farewells, as well as a lot of new beginnings. Goodbye to the So Soft Ponies, to the trend of the unicorn coloured streak of hair, to the Flutter Ponies and, of course, to the Twinkle Eye Ponies, too.
The Twinkle Eye release across different countries is complicated. I have adopted the US set format because the US release had the most ponies, but the set for 1987 really went like this:

North America: Speedy, Mimic, Bright Eyes, Quackers, Tic Tac Toe, Locket

UK, Germany, France: Speedy, Tic Tac Toe, Locket, Sky Rocket, Fizzy,Sweetie.
This is reflected in the 1987 insert: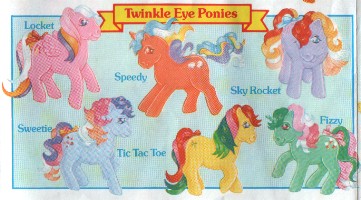 1987 Twinkle Eyed Ponies
UK Insert, 1987
The four newcomers were introduced in a UK comic story in edition 42, with a mad flying fish and another reference to the Cave of Jewels (although for some reason Speedy was drawn in purple, and Sky Rocket had sprouted a horn!)
Unusually, there are distinct variations in the packaging between the UK and Europe for this year, which may imply they came out earlier in the UK than on the continent.
Card variations for this set/equivalent sets across the mainstream 1987 release:

UK

TWINKLE EYE PONIES

SECOND SET (1987)

GERMANY/EUROPE

: TWINKLE EYE PONIES

SECOND SET (1987)

NORTH AMERICA

TWINKLE EYE PONIES

THIRD SET (1987)
Thank you to Rosie Apple for MOC Speedy and the ebay seller who loaned me MOC Mimic's image!
Maybe because of this difference in release format, the pale version of Speedy that came out in continental Europe was not sold in the UK release. We had the same darker bodied version as the US release, and this may also because our set appears to have been released more or less at the same time as the US release, rather than the European one.
All ponies from this set in the UK had puffy stickers, but this did not happen in other countries.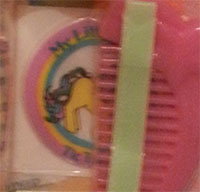 TIC TAC TOE: PUFFY STICKER
(From MOC UK PONY)