1988: Sparkle Ponies
NAPPER

Store release: Yellow glittered earth pony with lavender mane and tail (streaked with gold/silver tinsel), sleeping green moon on purple cloud symbol. NO symbol on cheek.
As has already been mentioned, the Sparkle Ponies are a confusing breed, and keeping the store issue and the mail order release on the same page seems the easiest way of preventing further confusion about these releases!
There were several different reasons given for the Sparkle Ponies' appearances, including the accident with magic fireworks.
However, Napper's own particular backcard story gave another reason for her glittery appearance. According to this, she discovered a glowing cloud and, when she investigated it further, she found the moon asleep upon it. When she hugged the moon, she became covered in glittering moondust that 'glittered and sparkled like the stars'.
One important note to make of Sparkle Ponies - and Napper is one to whom this applies - is that the normal rules are sometimes suspended. In many stories - backcard and comic - the Sparkle Ponies were able to fly through one means or another - even the ones who did not possess wings!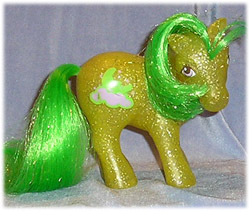 Mail Order Edition: Yellow glittered body with green mane and tail (streaked with gold tinsel), green moon sleeping on a lavender cloud symbol, small symbol on cheek.
Napper is one of the two Sparkle Ponies that is easy to tell edition for just at a glance. Store sold Napper had lavender mane and tail, whilst the mail order edition had green instead.

Officially, the mail order versions were not sold in the United Kingdom. Unofficially, there have been claims that some were found sealed onto cards both here and in North America, as if Hasbro were getting rid of surplus stock.

Such claims remain unverified, but may explain the small number of mail-order Sparkle Ponies that have been found in the United Kingdom.