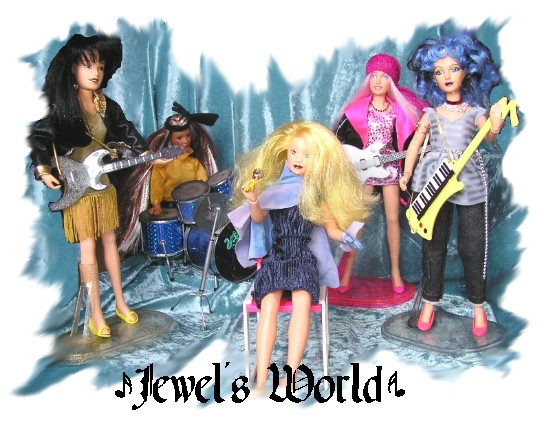 March 23rd, 2007

Well, so I must confess, it's happened. Terminal writer's block has set in (or did set in a few months ago) for the Jewel's World continuity and their adventures. I realise it was a sucky time for it to happen, positioned where it was in the middle of a three parter, but I've come to concede defeat. Try as I might, my artistic muse doesn't seem to be functioning on a Jem scale any more, so at least for now, there will be no more Jewel fic.
I still have all my notes on my computer, so it's not impossible that I might return to it one day. However, for the time being, I think that's it.
In light of this, some people may know that I tend to write my stories out of sequence and that often stories are written long before they're actually posted on the site. Because of this, there exist two stories outside the continuity, which were meant to make up later parts of New Dawn: Arc II. Since there are some important and serious themes in both, and since one of them explains Jetta's origins a lot more than anything else I've ever written, I've chosen to add them to the site.
Yes, it will mean some continuity gaps because of the missing stories inbetween. But even so, I hope they'll bring enjoyment to the readers!
On Angel's Wings
is a story based largely around Diablo and in particular Madeleine Dacourt, revealing a few of her secrets both past and present. The flipside of the story is Nancy in Carrowville with Robin Sheppard - and dealing with the ghost of Sian. (As you can imagine, their relationship has progressed a few stages, and that's one of the continuity loopholes because of the missing Lost Souls story. Half of that is written, but I don't know if I'll finish it, so watch this space.)
Honour Bound
is set in England, as Jetta's father has passed away and she has to close up the house. But there are a lot more secrets lurking in Bertie's closet and they might just cost her her life, if she's not careful. It also crosses Diablo, in particular Clayton Blake and his blood-relationship to Mason Hawthorne. Naturally therefore it features some very old school Britrock themes with a brand new twist put on them for Jewel's World.
I hope that people will enjoy these stories and not be too mad at me :) I've written Jewel for five years even on, and I guess I needed a break sooner or later. I won't take the site down - it will stay in situe, and so will the stories so that people can still read them.
And if I ever get back to Jewel's World (I did, after all, have a lot still planned for them), you people will be the first to know!!

July 12th, 2006
The first part of the next story is up and ready to go!
Brace yourselves. This story is a three parter and is the long promised Sirena fic that I've been talking about for a long while. But don't say you haven't been warned - there are a few shocks and surprises along the way in this fiction :) Part One is called
North of the Border
, and takes Emily to Canada on tour :)
Sorry for the delay in update - for once Misfit fic has distracted me away from my girls, but there is more to come and I hope you will enjoy reading it as it does.
And for those characters who have reached the point of no return...?
Ah...c'est la vie, ca :D
---
April 28th, 2006
Yep, it's almost May. Easter is over, and I've found time, at last, to link up and upload the first story in a brand new arc. The second arc in the New Dawn Jewel's World stories is called New Rivals and - as you can possibly deduce - it's focus is on some of the new problems and people Jewel and their satellites have in their lives.
However, this arc will also do something else. There will be stories which do not include Jewel at all! Yes, I know, it sounds bizarre - but I've long been promising Sirena's fans a story and that will feature in this arc. There will also be one based around Diablo in England...but if I say too much more about this, it will give far too much of my plan away ;) Finally, Jewel will make a return trip to Morvania, and one of the characters will reveal a life-changing secret that, up till now has only been hinted at...never expressed!
Curious? Confused? All will be revealed over time :D
The first story from this arc is called
Chasing Shadows
and deals mostly with Robin, Nancy and Syl's problems with having Jack and Logan in her life.
After the drama and dazzle of the Jacqui's Legacy story, I wanted to get back to basics and focus in on a new character again :) All the hints about Robin's past in Hidden Hearts and on his character biography are revealed in this story!
This is the first story I've written and uploaded with paragraph spacing. It's too much work for me to go through all the old ones and space them, because I just don't have the time to do it, unfortunately. But since a couple of people have asked, I decided to begin this arc afresh with that formatting and see how people feel about it. Any feedback will be gratefully received.
And as for LinZ? Well. You'll have to wait a biiit longer for the resolution to that story ;)
---

March 6th, 2006
The climax and and end to an arc. The end, in fact, of the first arc of the New Dawn phase of Jewel's World. Since Jerrica's death, many things have happened. Sadie and Alex have made plans for the future. Sylva has finally found herself a beau. And Cynthia? Well, Cynthia has officially lost her mind :)
Part Three of
Jacqui's Legacy
(entitled
Last Stand
) is now uploaded on the server and ready for reading. I don't want to give *too* much away, but I will say that this story *will* mark the end of the road for some characters. Yes, I'm serious, everyone. There *will* be death in this story.
But who is the Reaper coming for?
Will Synergy be able to beat Athena? Will she have to make the ultimate sacrifice for her friends? Can Jacqui really be quelled inside her, or is she just dormant, waiting for another opportunity to strike? Can Stefana choose the right side and survive Athena's threats? Will Darren McMillan finally crack Synergy's secret...and can Jewel's World hold up under the pressure of TWO holographic marvels? Will Athena succeed in her plot to slay Rory Llewelyn?
Click
here
to find out the answer to all these questions in the final installment of
Jacqui's Legacy
!
(Phew. And look out for a completely new story to begin a completely new arc sometime over the Easter period...LOL!)
---
February 1st, 2006
Well, here we are again. New year and the next installment of Jacqui's Legacy is up for reading on the server - Mirror Image is now accessible by clicking
here
(or on the left link frame if I've been a moron and mis-matched my links...it's been known to happen!).
Stefana has a serious decision to make - but which side is she going to choose? And can Techrat succeed in his ambition to duplicate Emmet Benton's technology?
Well..one step closer to finding out!!
The LinZ Pearce poll is now closed. Overwhelmingly the vote is in favour of her still being alive: 88% of you said you thought she was still out there somewhere and had survived the crash in the Amazon. Well, I promised that I'd go with the poll's decision, so I will :) LinZ will return to Jewel's World at some time in the (hopefully not too distant!) future. But I really hope you know what you've asked me to do...*grins*. Let's just say there'll be a few surprises in store for more than just Dean when she re-emerges onto the scene...
---
December 27th, 2005
A belated Merry Christmas to everyone, and my best wishes for a happy New Year!
Let it not be said that I forsake my promises!
This update brings you the first of a three-part story to round off the "New Dawn" arc - and to finally settle once and for all the issues surrounding Synergy that have plagued stories on and off since Jerrica's tragic death in "Of Benton Blood". Look out for several original characters making an appearance - and perhaps, their swan-song - over the course of this story.
Memento Mori
is now uploaded and ready for reading - you can either get there directly from clicking the story title, or you can find it under Jewelfiction 2015 in the link frame.
The other thing I have to mention is my poll - I'm undecided about how to deal with LinZ Pearce and her disappearance in the Amazon, as mentioned by many of the characters in earlier stories. I have brewing in my mind two possible endings for this story - but that all depends on whether LinZ lives or dies. So, I'd like to know what you think! The fate of an original cartoon character is in your hands...what do
you
want done with her?
Cast your vote in the LinZ Pearce poll by clicking
HERE
!
---
November 25th, 2005
Well, it's a little late, but between work, mental lethargy and my computer being an ass, I've had some issues linking and loading up the new story. But here it is! This one belongs largely to Copper. Returning in part to the shock administered her way in Thicker than Water,
Sangre
is all about family - in more ways than one! I hope you enjoy it - and I'll try to have part one of that teasing Synergy in crisis story up on the server before Christmas is too far off!!
---
October 19th, 2005
The latest Jewelfic "
Hidden Hearts
" has been uploaded to the server! This story focuses more on Sadie - with the introduction as well of an important new character, Robin Sheppard. Sadie is nervous about meeting Alex's mother - but there's far bigger problems for her on the horizon. And Robin is in Los Angeles, but are the rumours true about him being cursed - can he leave his troubles in Arkansas behind him and start over in the spotlight?
Still working on the three-parter. Two parts down, one to go...look for them closer to Christmas time!
---
September 11th, 2005
Well, it's exactly one month since the last Jewel update, and I've uploaded a new story -
Thicker Than Water
-to the server. This is decidedly a "Sylva" story! :) with frequent flashbacks to her past and childhood. Syl is off to New York with Logan for her sister's wedding...which is going anything but smoothly! It's my intention to delve a little bit more into my characters and their backgrounds during the course of the next stories, so hopefully things about them will become clearer as we progress.
And that three-part story I promised on the earlier theme? Well...not just yet ;) LOL :D But look out for it - it's on it's way!
---
August 11th, 2005
Okay, so Part Three is now uploaded to the server - you can access "
Avenging Angel
" via the side link frame or by clicking directly on the story title. Is Stefana going to blow Cynthia's secret? Is Sammi of the Teenangels really friend or foe? Are the tabloid press going to get their scoop - and what IS happening to Synergy?
Though this is the concluding part of this little saga, I'm not done with the theme yet - so look out for another three part story in the not so distant future...
---
July 3rd, 2005
Well, here we go - another story and another part to the unfolding drama in 2015 Los Angeles. In the aftermath of the tragedy, Synergy's very existance is at stake. But even if Aaron can find a way to restore her, will she ever be the same again? The FBI are closing in, and Ray Nicholson is still not convinced Synergy wasn't used as part of a highly sophisticated murder. How far will her friends have to go to protect Synergy's secret? And just
who
is going around Los Angeles vandalising the property of Jem's biggest rivals?
Check out
Part Two: The Enemy Within
:)
(I'm having fun now. Can you tell? :))
If you haven't been there already, check out Gemma Dawn's
Teenangel Outsider
site. Though the New Dawn first arc is meant as a standalone story, the events interlink with events in Gemma's Behind Enemy Lines story and you should check out her site if you want to find out more about Aja, Kimber and most of all, the secretive Ryan Montgomery, as the dust settles on Los Angeles!
---
June 2005
Jewel's World has a brand new look!
All the stories are still on the site and all the adventures up to date (from Starstruck to Mother's Pride) can be accessed now by clicking on the relevant ARCHIVE title in the left link frame (for example, Starstruck is the first story from Just A Dream, whilst Mother's Pride is the final story for Burning Ambition.
As explained on the main page, the reason for the new look site and the new archive naming is because the step being taken is a big deal one in the world of Jem fanfiction (if not a huge one in the world of Jewel). Mother's Pride left things pretty much settled with my girls and with their cast of co-characters. If you haven't read that far yet and want to avoid spoilers about how Arc 5 finishes up, leave the What's New page now ;)
-
-
-
-
-
-
-
Okay, that said and done with, the events of Sacred Vows and Mother's Pride have closed most of the open storylines. Copper and Aaron's marital situation is resolved. Topaz has some answers about her family, and some peace of mind where Cameron is concerned. Stefana is embarking on her own journey of self-discovery and it appears that everything is peaceful and safe for everyone.
So that's why we like to upset the balance.
The first new story, "
Of Benton Blood
" from the Archive "
New Dawn
" is uploaded on the server. Please note that the events in this story are going to upset some die hard Jem fans. It took a lot of discussion and thought before Gemma Dawn and I decided that both Jewel and the Teenangels needed this big step to happen to continue our two worlds. It wasn't chosen simply to upset Jem fans - but to open up a whole new can of worms and to create many changes for both groups...most significantly one of the Jewel's World characters who is dear to many fans of the original show. Certainly she is to me - and my fondness for her has only grown as I began writing this new arc.
As for the rival situation, Stefana - and Diablo - have still got a big part to play in Jewel's World, and I intend to write a story about Sirena in the not too distant future, too. (She isn't forgotten!). I'm honestly too fond of Stefana to leave her out now!
That's not to say Jewel's World has not changed at all. There is an end in mind - and drastic things will happen between now and then, to many different characters before a final resolution is reached. Sundry new characters have also been introduced - Marissa's sister Farah came into Mother's Pride, but there are a few others to add to the list, and all of these can be found already in the character profiles. A few of my old characters will also be paying a visit, and one of the things I do hope to do before Jewel's World winds up is to write something concrete to really fill in Sophie's missing background with the Stingers ;)
As for the site itself - there have been alterations here too. Aside from the new biographies for the supporting characters, doll photographs have been added to the pages of "Cynthia Benton" and "Madeleine Dacourt." The Jewel doll photos have been updated as well, since I've reworked three of my characters to represent either a new look or just out of sheer fed-up-ness with the original doll I made (the originals can still be seen on some of the story main pages, however.)
So, I think that's about it :) All that's left to say is that I hope you enjoy the new site, the new Arc - and remember that my stories represent only *one* possible Jem futureworld outcome...not the definitive!