1985-6: Earth Ponies
POSEY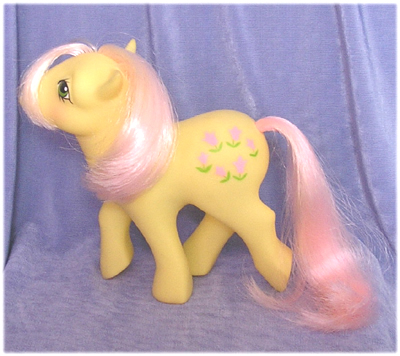 Yellow earth pony with pink mane and tail, pink and green tulips symbol
(PICTURED: FIRST EDITION, GROOM n STYLE/YEAR 3 EARTH PONY)
Posey, a mild, sweet natured little pony with a passion for flowers, was first introduced to ponyland in 1985 as part of the Groom and Style set. Issued with pink painted tulips, she would be so popular that, in the following year, Hasbro decided to continue her release in Europe and the UK along with new characters.
Whilst the 1985 set of "Groom and Style" ponies is fairly straight forward, and was sold worldwide (although the Groom and Style tag seems to have been uniquely Hasbro UK's pidgeon!), subsequent issues of Posey are a bit more complicated.
It is worth saying now that there are multiple shades of pink (plus the horrible faded-to-white) that a loose Posey can be found with. These are all batch variations from the original set, but there is one symbol variation which belongs to a different set.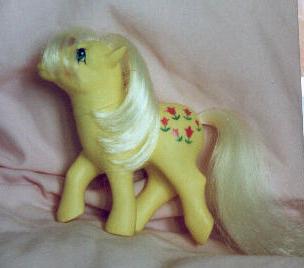 SECOND EDITION POSEY (UK, 1986)
In the United Kingdom, this version of Posey was part of the set known simply as "My Little Pony", which also included unicorn Gypsy and pegasus pony Honeycomb. Like Cherries Jubilee, Posey's accessories were modified to match the set style, but in other regards, she is much like original Posey. In this case, though, her symbol matches the darker red of the So Soft Pony, making her, effectively, a So Soft without flocking.
In parts of Europe, this version of Posey was also sold. However, Gypsy and Honeycomb were not part of the set, and instead there was a different version of Tootsie. See Tootsie's page for more information. Versions of this set made in Italy were also sold (and different European countries seem to have had different combinations.) Posey was NOT illustrated on the 1986 backcard with darker symbols.
Second Edition Posey is very easy to identify, because of the vivid nature of her symbols. Please note that our loose one is a bit faded, and her hair should be the same pink as the pony at the top of the page!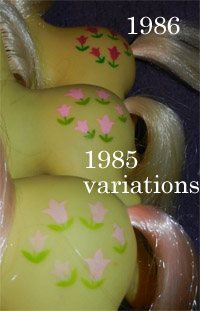 POSEY SYMBOL COMPARISONS, SHOWING BATCH VARIATIONS IN 1985 SET COMPARED WITH 1986 SYMBOL
---
SO SOFT POSEY
Posey would also see a release as a So Soft Pony. This pony had dark symbols, largely to show up through the flocking. Her hair was also pink (mine is a little faded!)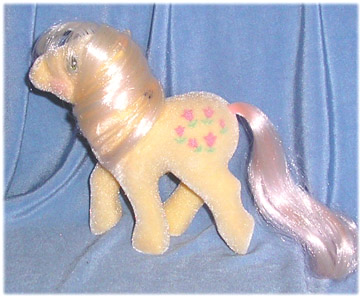 So Soft Posey (North America, 1985-6)
It is important to note that there was never a white haired version of Posey. ALL such Poseys are faded out, since sunlight has a destructive effect on the particular shade of pink Posey uses. The same applies to white tulips - this is not a variation.